Hansgrohe USA Begins Collaboration with Sur La Table
---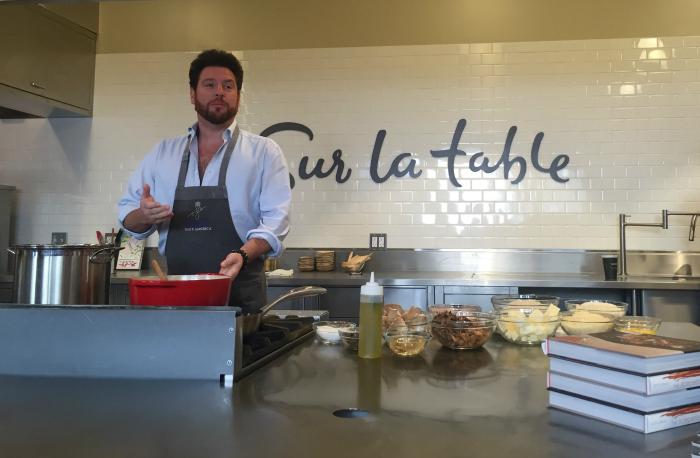 September 30, 2016
Hansgrohe USA is embarking on an ongoing collaboration with popular retailer and cooking class destination, Sur La Table, outfitting dozens of its in-store kitchens with its fixtures and joining forces on culinary campaigns, events and giveaways. As a kick-off to the partnership, Hansgrohe is sponsoring Taste America, a culinary, cross-country tour benefitting Sur La Table's partner The James Beard Foundation (JBF), September 23-November 5, 2016.
"Like any great recipe, it's the right ingredients that ultimately lead to a successful result," said Erik Christensen, president of Hansgrohe USA. "We have two solid partners in Sur La Table and The James Beard Foundation. There is a fantastic synergy between the worlds of good design and good food. Our goal for this partnership is to celebrate that and, through several upcoming campaigns and events, harness the common capacity of exceptional design and the culinary arts to bring people together in the kitchen."
The Sur La Table team selected Hansgrohe products – including the Talis S HighArc Kitchen Faucet, Axor Citterio Prep Kitchen Faucet and Talis C Potfiller – for the in-store kitchens of numerous Sur La Table locations. Installations have begun, and will continue on an ongoing basis as new stores open and are renovated. Award-winning master chefs in the Taste America program will be among the first to experience the products. Hansgrohe is sponsoring three stops in the tour: Los Angeles, Chicago and Boston. Each will feature a mixture of special dinners, as well as celebrity chef demonstrations at Sur La Table stores.
The final ingredient in Hansgrohe's autumn culinary lineup is a fun, Instagram campaign centered around the kitchen. With the theme #KitchenIsSocial, it will offer engaging content, festive fall recipes and weekly giveaways from October 1-31.