KBIS 2017 Innovative Showroom Award Applications Now Open
---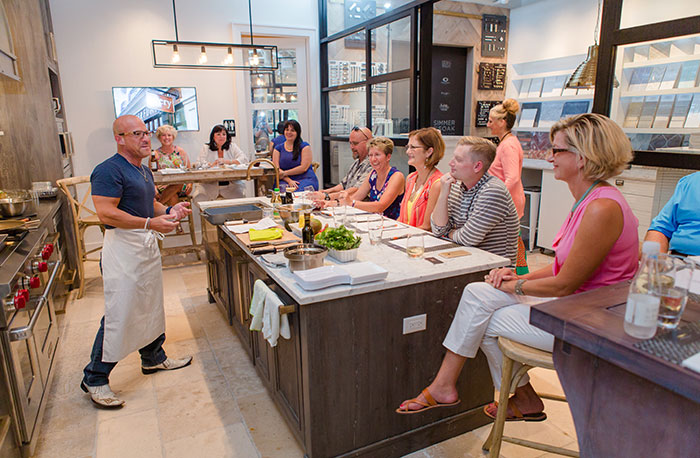 September 8, 2016
Simmer+Soak Cooking Class with Johnny Carino
The National Kitchen & Bath Association (NKBA) is pleased to announce the 2017 Kitchen & Bath Industry Show's (KBIS) Innovative Showroom Awards applications are now open.  The annual KBIS Innovative Showroom Awards allow the kitchen and bath community to honor the retail showroom experience and bring recognition to the central role showrooms play within the industry. Showrooms can register by filling out the Innovative Showroom Awards application online. The deadline for applications is October 31, 2016.
"The KBIS Innovative Showroom Awards have become a coveted award among retail showrooms, and an honored KBIS tradition. We're thrilled to continue this tradition in Orlando this January," said Brian Pagel, VP Kitchen and Bath Group, Emerald Expositions. "It's important to recognize those showrooms that take the time to educate customers, allowing them to truly experience each product as they plan a new kitchen or bath project."
The 2017 Innovative Showroom Awards are exclusively sponsored by LIXIL Water Technology Americas, the business unit comprised of kitchen and bath brands American Standard, DXV and GROHE. LIXIL Water Technology Americas will unveil new kitchen and bath innovations at KBIS this year, aiming to improve health, increase sustainability, and enhance the quality and beauty of everyday life.
"Showrooms play such an important role in the kitchen and bath industry. They provide homeowners and designers with unmatched expertise, along with the opportunity to engage and interact with products," said Maha El Kharbotly, chief marketing officer for LIXIL Water Technology Americas. "Our organization is pleased to once again sponsor the Innovative Showroom Awards to bring recognition to the important role that showrooms play in helping turn their customers' dreams into reality."
"We are truly pleased that our members American Standard Brands, DXV, and GROHE continue to support KBIS and the Innovative Showroom Awards," said Bill Darcy, NKBA CEO. "It is this type of commitment that allows us to grow KBIS from year to year and enables us to present the best in innovation, education and networking, enhancing the show's value to both exhibitors and attendees."
The global LIXIL Water Technology business unit functions across 150 countries, with research and development Centers of Excellence based in Germany and Japan and production facilities in 50 nations. Its international sales structure is notably characterized by its diversity, encompassing a variety of brands and product categories offered in multiple markets and distribution channels. The LIXIL Water Technology brands provide design and construction professionals, and their customers, distinctive and comprehensive kitchen and bathroom solutions that make life healthier, safer, and more beautiful, at home, at work and around the world.
The 2017 award winners will be determined by the Innovative Showroom Advisory Board comprised of five members consisting of past winners, judges and voices of the industry. The advisory board will select 15 finalists. Representatives from these showrooms will be invited to speak as part of a panel discussion on showroom innovation on Tuesday, January 10 on the KBISNeXT™ stage, followed by an awards ceremony announcing each winner and a cocktail reception.
A winner will be chosen in each of the following categories, with one chosen as the overall Innovative
Showroom winner:
•

Independent Retail Showrooms Locations

 

(1-5 showroom locations) – Small (1,000- 2,500 sq ft)

•

Independent Retail Showrooms Locations (1-5 showroom locations) – Medium (2,500 – 5,000 sq ft)

•

Independent Retail Showrooms Locations (1-5 showroom locations) – Large (5,000 sq ft+)

•

Multi Location Retail Showrooms (6+ showroom locations) – Medium (1,000 – 5,000 sq ft)

•

Multi Location Retail Showrooms (6+ showroom locations) – Large (5,000 sq ft+)
Following KBIS 2017, KBIS will once again host the People's Choice Award, allowing the public to vote for their favorite innovative showroom via the KBIS Facebook page.