MTI Wins Two 2016 Green GOOD DESIGN Awards
---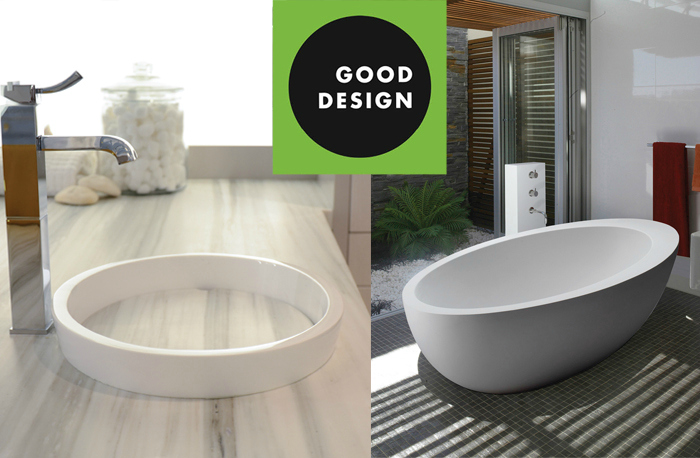 August 9, 2016
MTI Baths announced the brand's two wins in the international 2016 Green GOOD DESIGN Awards. The Continuum sink and Cáscara tub were selected from more than 500 products for their innovative design and emphasis on sustainable design.
Designed by kitchen and bath designer Matthew Quinn, the Continuum's creative construction reuses the countertop cut-out to form a faux bottom of the sink, providing an illusion of a seamless design that allows the striations of the counter material to visually flow "through" the sink. Like the Continuum, the Cáscara tub's eco-friendly Engineered Solid Stone mixture of natural ground materials and high-performance resins mimics the natural beauty of stone while giving MTI designers the flexibility needed to create this visual delight.
"Continuum was inspired by the individuality, movement and beauty of natural stone. This sink was created to provide a continuation of nature directly through the vessel," stated Quinn. "Partnering with MTI Baths on the Continuum sink ensured perfect execution and understanding of the sink's design."
Awarded by The Chicago Athenaeum: Museum of Architecture and Design and The European Centre for Architecture Art Design and Urban Studies, the Green GOOD DESIGN 2016 awards represent manufacturers and design firms that are forwarding a new emphasis on a more sustainable design and environment worldwide.
"It is a huge honor to win two Green GOOD DESIGN Awards," stated Russell Adams, MTI's president and chief of design. "For MTI 'green' means environmental responsibility and sustainability, and our product designs reflect that."