Sub-Zero Group, Inc. Celebrates the 2013-2014 Kitchen Design Contest
---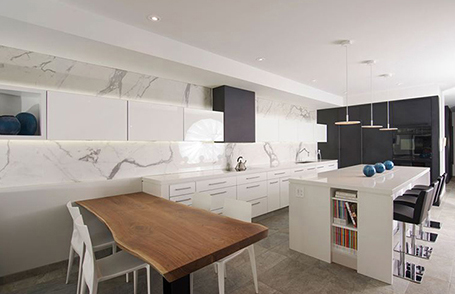 September 22, 2015
Luxury appliance manufacturer Sub-Zero Group, Inc. recently celebrated
its 70th anniversary with the 2013-2014 Kitchen Design Contest (KDC).


The KDC is a biennial competition that celebrates residential kitchen
design across 53 international and North American regions; qualified
entries must incorporate Sub-Zero- and Wolf-branded appliances in
innovative ways that thoughtfully enhance the kitchen. 


Selected by a panel of seven industry-sourced judges, the 53 regional
winners each received a $500 cash prize, more than $1,175 in promotional
value and a two-person trip to the KDC Best of the Best Winners' Summit
& Gala event – this year held in Scottsdale, Az., at the Fairmont
Scottsdale Princess resort from September 13-16.


This round's judging panel consisted of Jamie Drake, founder of New
York-based Drake Design Associates; Brazilian architect Cristina
Menezes; E.J. Meade, a founding partner of Boulder, Co.-based Arch11;
Matthew Quinn, a principal at Atlanta-based Retrofit Ventures and Design
Galleria Kitchen & Bath Studio; Doug Durbin, co-founder of
Chicago-based nuHaus; Friedemann Weinhardt, owner and principal at
Canadian firm Design First Interiors; and Long Island, N.Y.-based
designer Vasi Ypsilantis. 


"We really pay attention to the tailoring," said Durbin. "The littlest
detail can communicate as effectively as the more obvious design
qualities."


This year saw a record 1,784 entries submitted across 16 countries. From
this wealth of material, the judges were able to help Sub-Zero Group,
Inc. determine the latest trends in kitchen design, which the company is
carefully considering as it develops future products.


"I look for personality [in submissions], and it was nice to see people
being less safe," said Quinn in regard to how an economy on the up-tick
has led people to broaden their horizons with more daring interiors.
"We're seeing less walnut than in previous years, along with a greater
variety of metal finishes, other than just stainless. There's an overall
industrial-chic, modern aesthetic happening with a color palette that
expands beyond white."
The judges all agreed that, in previous years, the typical lifespan of a
kitchen's design was approximately 30-40 years, but people are now
looking to renovate about every 10 years. Recently, noted Ypsilantis,
budgets have more than doubled.


"Entries had a prolific use of appliances," explained Weinhardt. "In the
early days, these were more of a secondary consideration, but now they
have become one of the main reasons people want to renovate."
Sub-Zero Group, Inc. vice president of marketing, Michele Bedard,
indicated that the company is taking these insights and others into
consideration as it improves the minutia of its products. The company
now has a host of innovations on the way. Expect to see control panels
redesigned for ease of use, innovations in steam cooking and induction
technology and models that accommodate additional cooking styles.


During the gala ceremony, three first-place winners received $20,000 and
more than $45,300 in promotions; three second-place winners received
$10,000 and more than $21,200 in promotions; a first-time entry and
designer's choice winner were each awarded $8,000 and more than $3,300
in promotions; and a student winner was awarded $5,000 and more than
$3,300 in promotions.
View a gallery of images from the winners here.
This year's winners are:
First Place, Contemporary
Hide and Seek 

Dovide Secter 
Secter Design Limited

Winnipeg, Man., Canada


First Place, Transitional 
Mountain Bliss
Mikal Otten 

EXQUISITE KITCHEN DESIGN

Denver


First Place, Traditional
Chelsea Townhouse

William Suk
Suk Design Group LLP

New York


Bryan Eure

EureHome
New York


Second Place, Contemporary

Just A Pop of Red
Sandra Agurto

CABINETRY CREATIONS, INC
San Francisco


Phil Kean and Rob Turner
Phil Kean Designs
Orlando, Fla.


Jose Cabrera

C L Studio, Inc.

Orlando, Fla.


Second Place, Transitional

The Prado

Joel Kelly

Joel Kelly Design

Atlanta


Second Place, Traditional

Desert Retreat

Courtney Ziething
CC and Company Designs

Newport Beach, Calif.
First-time Entrant Award

Boathouse Kitchen

Steven Comisso and Mary Ellen Lynch
Lynch + Comisso: Architecture + Light

Toronto
Designers' Choice Award
Desert Retreat 

Courtney Ziething

CC and Company Designs
Newport Beach, Calif.


Student Award

Jackie Vargas
The Art Institute of Houston

Houston