AJ Madison Launches the Kitchen Design Group
---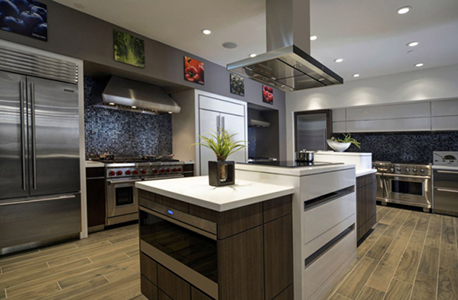 May 25, 2016
AJ Madison, an appliance authority both online and through its new Brooklyn appliance showroom, has launched the AJ Madison Kitchen Design Group. This special program was created to provide support to professional interior designers, general contractors and cabinet-makers with their appliance challenges.
According to Philippe Meyersohn, director of marketing and business development at AJ Madison, "One of the most common pieces of feedback we get from the designers is that we solve design dilemmas. Our Kitchen Group Appliance Experts have advanced appliance training so that they can find creative solutions to complex problems. The team not only has a deep knowledge of appliances, they are also easy to talk to and are ready to help plan and execute the integration of appliances into any size kitchen design project. They can also assist with delivery and installation procedures, along with any design concerns that may arise, whether it is for a panel ready built-in refrigerator or solutions for a small space kitchen."
The AJ Madison Kitchen Design Group will work with the design community and trade on the phone, Internet or through a new state-of-the-art appliance showroom in Brooklyn, where they can experience 60+ appliance brands in person.
The new program includes the following elements:
• A dedicated appliance expert throughout the transaction – Appliance experts have thorough appliance knowledge, including brand selection, product features and appliance configurations. They also provide a unique knowledge and understanding of appliance design and cabinetry integration.
• Personalized white glove delivery service – AJ Madison's white glove delivery service is committed to providing the best delivery experience. For instance, they always use rubber back runners, and provide laminate sheets when necessary to protect the integrity of clients' floors. They also know that projects and their timelines evolve.
• Exclusive Personalized Concierge Service to address any client issues or questions.
• Access to unique events and training, as well as information on what is new in the industry.