AKDO Unveils Its First Flagship Tile & Stone Showroom
---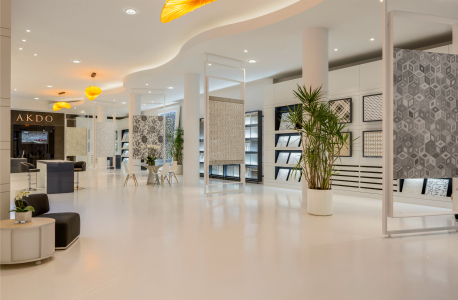 April 21, 2016
For the first time in its 25-year history, AKDO has brought its global stone, tile and mosaic collections together in one flagship showroom. Spanning two floors and 10,000 square feet, the showroom resides at 22 West 21st Street in Manhattan's design-rich Flatiron District. With a vertical production model, the tile manufacturer owns quarries and factories and incorporates handcraft. The New York showroom opening marks AKDO's first foray from product design and development, manufacturing and distribution into a branded retail environment. 
"We're very pleased that after 25 years building both our global production and a U.S. network of over 300 kitchen, bath and tile showrooms nationwide, that we will now showcase our collections of natural stone, mosaic and specialty stone tiles in our very own showroom that is located right in the center of the design district," said Hakki Akbulak, AKDO's president and co-founder.
Serving both design professionals and design lovers, the space has an airy and cool interior. The main level of the showroom serves as an inspiration area and features custom offerings, exclusive artisan lines, newest products and mosaic panels on display. The AKDO showroom features a clean, open and inviting aesthetic with a contemporary European feel, forgoing lifestyle props such as sinks and tubs for a sleek backdrop of matte white floors, walls and millwork. 
"All of our products are created to complement and harmonize with each other," said AKDO creative director Kate Sterling. "Since the products and collections in the showroom are exclusively AKDO's own, when looking across the showroom, our guests will immediately see a cohesive story of collections that can be used to design their entire interior." 
Adding to the drama are two mammoth, one-of-a-kind framed mosaic panels at a remarkable size of 10 by 12 ft. Each mosaic piece or tessera has been cut and placed by hand, blending colors and materials to create works of art. A walk through the showroom also reveals two custom art mosaics, crafted from thousands of pieces in dozens of colors of natural stone. Elsewhere, guests will discover an artisanal collection of true verre eglomise tiles made exclusively for AKDO by American glass artist Jay DeMauro. On the lower level, AKDO has built workspaces to facilitate the design process. A large conference room allows designers and their clients to meet and discuss plans. The adjacent inspiration and resource library includes the full range of AKDO's architectural product binders, shelter and design trade magazines, architecture and design books and monographs. Several worktables are available on each floor, along with charging stations, an espresso bar and two magnificent bathrooms that double as life-sized, working design vignettes.
The showroom at 22 West 21st Street is open to the public and the design trade Monday through Saturday.