Amerock Hardware Introduces Chateau to Simple Steps Merchandising Program
---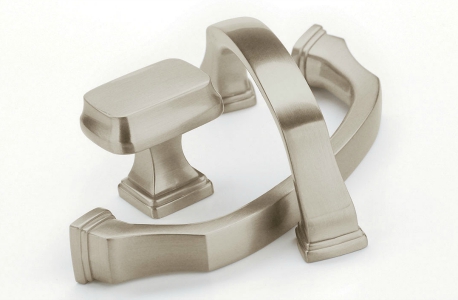 August 24, 2015
Amerock Hardware introduces the Chateau display to its Simple Steps merchandising program. Chateau is the third in a series of product lines, along with the Villa Accents and Manor collections, to be added to Amerock's popular small footprint selling and display program to offer a "good, better, best" assortment of quality products at competitive prices. 
"Remodelers, cabinet shop owners, builders and any retail or trade partners that don't have room for a large showroom tower merchandiser are able to utilize Amerock Simple Steps boards to offer consumers a variety of finishes and styles," said Brian Dove, senior channel manager, Amerock Hardware. "The Simple Steps program is a business generating tool for our retail partners. It creates a strong assortment for dealers to offer to customers while generating great margins."   
The new Chateau collection adds variety and creative style options, from the casual to the contemporary, with unique finishes like Gilded Bronze and Graphite, and top selling favorites like Oil Rubbed Bronze and Satin Nickel. Each of the 10 finishes are offered in everything from traditional pulls and knobs to more innovative pieces like oversized knobs, square knobs and cup pulls.
With 35 SKUs, 10 finishes and 13 styles, the new Chateau display makes finding hardware through Simple Steps straightforward and effortless, allowing retailers to express a variety of styles at competitive price points while meeting the physical needs of their available space.
Also offered through the Simple Steps program are the Villa Accents and Manor collections, showcasing Amerock's most popular designs by price point.  The square or oblong shapes of the Amerock Manor collection are transitional pieces and are available in Brushed Brass, Satin Nickel, Oil Rubbed Bronze, Weathered Brass and Weathered Nickel.  Villa Accents brings together decorative hardware to accentuate kitchen cupboards or bathroom vanities.