Ashton Woods Debuts The Studio Near Atlanta
---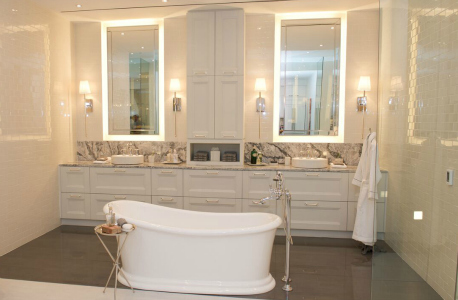 December 22, 2015
The Atlanta division of Ashton Woods has debuted the area's largest inspiration and design studio, The Studio. Located in Alpharetta, the 12,000-sq.-ft. facility features complete rooms, thousands of choices in interior and exterior style elements and the opportunity to consult one-on-one with design consultants
"The opening of The Studio was prompted by our commitment to give buyers an enriched home-buying experience that focuses on personalization and customer service," said Michael Malloy, vice president of sales and marketing for Ashton Woods in Atlanta.
Upon entering The Studio, buyers can walk the Hall of Inspiration, which features three bath and three kitchen vignettes in frameless glass enclosures that are reflective of the crisp design of the entire space. These rooms showcase three styles – traditional, transitional and contemporary – and demonstrate how large details like countertops and cabinets work together with smaller elements, such as hardware and textures, to create a complete look. By presenting entire, well-appointed rooms, Ashton Woods helps its buyers visualize what they want in their own homes.
The Hall of Inspiration flows to galleries of flooring, cabinetry, backsplashes, lighting and more. Instead of racks and racks of samples, Ashton Woods installed "conceal and reveal" cabinets that present options in a way to help streamlines the decision-making process for buyers. Additionally, buyers will be able to consult with design consultants and professionals. 
"Our consultants help bring our buyers' ideas for their homes to life," explained Malloy. "They guide our customers through the entire process. Buyers come out of The Studio with a home personalized to their lifestyle."
To create The Studio in Atlanta, Ashton Woods brought in Anna Simone, an award-winning designer and founding partner of Toronto-based design firm Cecconi Simone Inc. She has worked with the builder to create new Studios in nine other markets, including Raleigh, N.C., Charleston, S.C, Phoenix, Ariz. and Houston, Tex. Her use of muted tones and neutral backdrops reduces the visual noise that is associated with similar facilities, while her selection of dramatic lighting and high-tech screens with design images impart a high-end retail experience.