Baldwin Hardware Unveils 70th Anniversary Commemorative Knob
---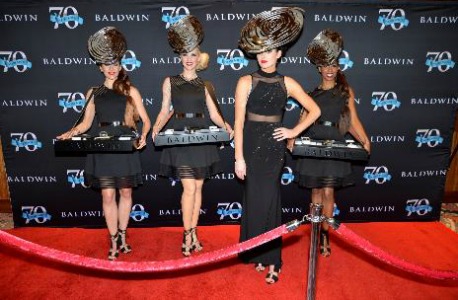 February 8, 2016
Baldwin Hardware, a brand of the Hardware & Home Improvement (HHI) division of Spectrum Brands Holdings, Inc., celebrated its 70th anniversary in bold fashion during an event at the Mandarin Hotel Ballroom in Las Vegas where hundreds of architects, builders, customers, designers and employees gathered to celebrate Baldwin's rich history and witness the unveiling of the company's 70th Anniversary Commemorative Knob.
The knob design, which was submitted by Ileana LaFontaine of di Domenico + Partners, features an abstract design of seven engraved rings reminiscent of the age rings of a tree. Each ring represents a decade of Baldwin's history and encases a 70 in the center of the knob. Baldwin's Industrial Design (ID) team produced the knob in several Baldwin signature finishes, including 055 Lifetime Physical Vapor Deposition (PVD) Polished Nickel, 060 Satin Brass & Brown and 033 Vintage Brass, and each was on display at the event. LaFontaine's design was selected from nearly 100 submissions from architects and designers from around the country.
"Nearly 100 people took the time to sketch, mold or model hardware they felt best embodied Baldwin and our rich heritage," said PJ Rosch, Baldwin brand manager. "Once we selected the winning design, our ID team went to work to bring it to life. This is a true testament to our ID department's ability to quickly design, develop, produce and manufacture the finest in custom hand-crafted hardware."
In addition to the knobs on display, Baldwin surprised guests by further bringing the design to life and adding new meaning to the term "door couture." Models adorned with headpieces and gowns inspired by the commemorative knob mingled with guests throughout the evening.
"Many people like to say that 'hardware is like jewelry for the door,'" added Rosch. "We prefer to think of Baldwin as a fashion statement for the home; part of your design aesthetic. Baldwin is couture for the door."
Baldwin is capturing all of the excitement of its 70th anniversary year at http://70yearsbold.baldwinhardware.com/ where people can learn about upcoming events, view pictures and videos and stay up to date with the Baldwin blog.