Bostik and Artaic Innovative Mosaic Teach Elementary Students the Mosaic Process
---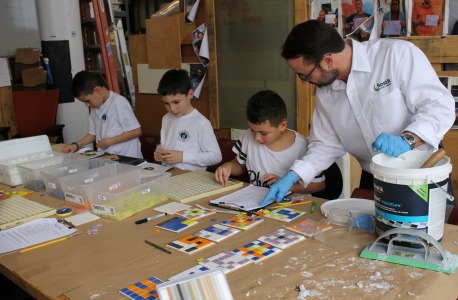 February 24, 2016
Bostik, Inc., manufacturer of adhesives and sealants, recently teamed up with its strategic partner Artaic Innovative Mosaic to host 15 elementary students from the Eliot K-8 Innovation School. The event took place at Artaic's facility in Boston and offered students a hands-on, learning experience focusing on the art of mosaic tile. 
The afternoon's lesson plan included three individual stations where students learned about Artaic's cutting-edge robotic technologies, which have been developed to design and fabricate custom mosaic tile productions from concept through completion.
At the Computer Software Station, students learned about the digital converting of an image into a finished mosaic. They watched on a large monitor as Artaic personnel took a simply drawn image and quickly had it rendered into a mosaic design using a custom-engineered CAD. Next, students met "Arty," one of the robots responsible for "planting" the tiny tiles to make up the mosaics. The goal was for students to understand how robots and humans can work collaboratively to create a mosaic.
Prior to their visit, the students had created original mosaic designs on paper in a "color by number" pattern. They were given individual grids and bins of numbered colored glass tiles and were timed on how quickly they could assemble a mosaic tile design.  Because the students had just witnessed how quickly "Arty" could assemble the tile, they could compare their time to his. Lesson learned: "Arty" is much faster and precise than humans!
For the final step, Scott Banda, Bostik's director of marketing, Consumer & Construction Business Unit, took the students through each step of grouting and installation of the mosaics. He introduced them to the tools and materials of the trade and demonstrated proper grout application technique using Bostik's Dimension, a patented, glass-filled, ready-to-use, water-based urethane grout. 
"They watched everything so intently and with so much curiosity, it makes me believe that we may have, in some way, made an impact today," said Banda. "At Bostik, we believe that in order to keep our industry moving forward, it's important to not only promote technology, but to make a concentrated emphasis on the importance of tradesmen and their mastered skills." Bostik and Artaic's ultimate goal is to offer this learning program to many more students in the Boston area and make it a national program in the future.
Bostik and Artaic will be teaming up again soon at Coverings 2016 in Chicago.