Brown Jordan Outdoor Kitchens Wins IFDA Best in Show Award
---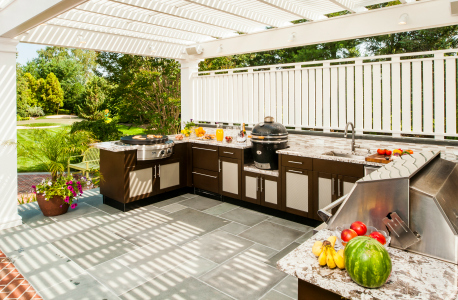 April 26, 2016
Brown Jordan Outdoor Kitchens was awarded Best Kitchen by a panel of esteemed judges at the International Furnishings and Design Association (IFDA) show, which took place in New York, March 17-20, 2016. 
According to the IFDA, Brown Jordan Outdoor Kitchens' commitment to bringing luxury to the outdoors by way of offering color, style and design, was one of the many deciding factors in recognizing the company, as well as the company's ability to blur the line between indoors and outdoors. 
"In an industry where color and texture seem to be paramount in interior design, it fascinates me that an outdoor kitchen experience has made the leap into taking the indoors out," said Dwayne Clark, senior director at Dwayne Clark Interior Design Management Group and one of the show judges. "Also, the technology and manufacturing capabilities involved with creating an outdoor kitchen resonate with me. Those reasons influenced my decision to select Brown Jordan Outdoor Kitchens as my pick for the IFDA Kitchen award at Architectural Digest Show."
In addition to Clark, the panel of judges included Andrea Brodfuerer, Von B Interiors; Elissa Grayer, Elissa Grayer Interior Design; Jessica Geller and Virginia Toledo, ID810 Group; Kevin Dumais, Dumais; Nancy Fire, Design Works International; Pryor Callaway, Pryor Callaway; Rio Hamilton, Rio Hamilton; Rose Ott, Rose Ott Interior Design and Vanessa DeLeon, Vaness DeLeon Associates.
"We are thrilled to be announced as a winner of this prestigious award," stated Mitch Slater, president of Danver Stainless Outdoor Kitchens, exclusive licensee of Brown Jordan Outdoor Kitchens. "We appreciate the overwhelming support of the IFDA as well as the judges." 
Photo Credit: Atlanta Outdoor; Steven Whitsitt Photography