Celebrating 60 years of Hydrotherapy
---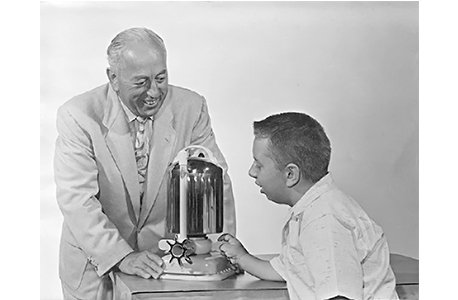 May 24, 2016
Jacuzzi Group Worldwide announces the 60th anniversary of the Jacuzzi Brand and will be celebrating its diamond anniversary throughout the next year with in-store promotions and events.
With a rich history of innovation and design, the Jacuzzi Brand continues to lead in both indoor and outdoor hydromassage. The Jacuzzi brothers revolutionized the pump industry by developing a pump that drew water out of the ground more efficiently than ever before, earning them a Gold Metal Award at the California State Fair in 1930. Then in 1956, Candido Jacuzzi responded to his toddler Ken's need for pain relief and created the J-300 hydromassage pump. The portable hydrotherapy pump turned any normal bathtub into a relaxing and rejuvenating hydro-therapeutic spa and changed the lives of people around the world.
Over time, the Jacuzzi Brand advanced and adapted products to make in-home hydrotherapy available to anyone, from bringing the world's first integrated whirlpool bath to the market to units with built-in heating and filtration systems that accommodate groups of people, both indoors and out. Today, Jacuzzi Brand hydrotherapy is available in many forms, and while the technology of hydrotherapy has changed over the years, the benchmark for performance, design, care and well-being has always been at the core of the Jacuzzi Brand.
Upcoming 60th Anniversary Events
Jacuzzi Luxury Bath will have a multi-faceted presence at the MA! Design is Human and Architectural Tour in Atlanta from June 8 – 12, 2016. The Stella Bathtub will be on display in one of the Architectural Tour homes, the Bianca bathtub will be displayed at the MidExpo, and several other baths can be seen at the Ferguson Bath, Kitchen & Lighting Gallery at The Shops at Buckhead. Jacuzzi Luxury Bath will take advantage of this opportune time and location to celebrate its 60th Anniversary with an exclusive designer-, architect- and builder-focused event in the Ferguson showroom on Thursday, June 9, 2016.  
"Since Jacuzzi manufactures its products in Georgia, Atlanta was the perfect place to celebrate our 60th anniversary with key industry influencers," said Joseph Davis, president of Jacuzzi Luxury Bath.
A CEU titled "Designing the Bathroom as a Wellness Retreat" will also be hosted by Jacuzzi at ADAC in partnership with MA! Design is Human on June 9, 2016.