Cesar Opens New York City Location
---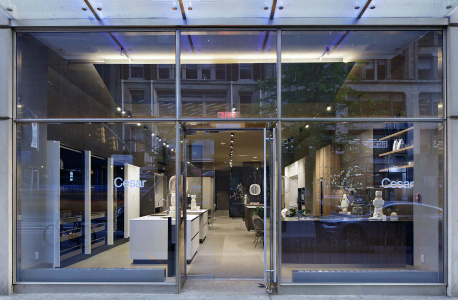 July 8, 2016
This Cesar summer, Cesar adds New York to its list of flagship cities, which includes Milan, Genoa, Paris and Cannes. The Italian kitchen manufacturer known for its modern kitchen designs, has opened a street-level showroom on 23rd Street in the heart of the Flatiron District. The showroom is open to both the interior design trade and the retail customer looking for a turnkey solution to designing and outfitting a new kitchen.
"We are very proud to open the Cesar Flagship Store in New York, the very first in U.S. We could not miss such an important marketplace," said Gina Cester, CEO of Cesar Arredamenti. "Cesar New York will serve as a window to show our world and collections and also act as a new platform to create collaborations with interior designers, architects and final customers."
The New York space, created under the art direction of the Garcia Cumini Associati studio, conveys a calm, serene feel. Five unique kitchen designs have been realized against a backdrop of a welcoming warm gray that extends from the walls, for which a slightly rough paint with a grainy surface texture was chosen, to the brushed oak flooring stained in the same shade. Focusing on a single color applied to different materials allowed showroom designers to heighten the dimensions of a space that, like many Manhattan stores, consists of two large shop windows that open up onto an area that has incredible depth. The Flos lighting system enhances the materials used in the kitchens on display.
"We felt that there was great potential for Cesar in New York, and that the company deserved a flagship store in Manhattan," said general manager Gil Kovalsky. 
Cesar's new premises in New York will be open to the public and will include collaborative gourmet moments dedicated to samplings and cooking demos, meetings and events that will focus on Italian design.