Chief Architect Releases iOS and Android App for Remodeling
---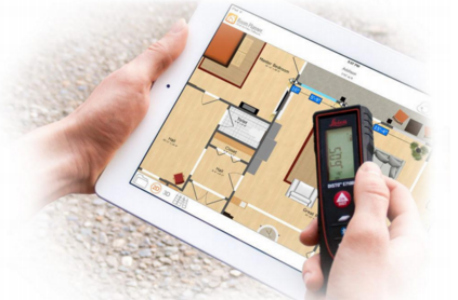 October 19, 2015
Chief Architect Software announced a new version of Room Planner, a 2D- and 3D- home design app specifically for the remodeler to gather as-built measurements. The mobile app runs on iOS and Android and is compatible with several Bluetooth laser meters to aid in gathering dimensions. Once the remodel project is measured, the floor plan, doors, windows and dimensions can be imported into the Chief Architect desktop software to complete the detailed design and construction drawings.
"We found several professional remodelers spending a lot of time gathering as-built dimensions with paper and pencil – and oftentimes missing key dimensions," Scott Harris, vice-president of Chief Architect Software. "Room Planner helps speed the process and allows you to import the as-built plan directly into our desktop software eliminating the need to translate the floor plan from the paper drawing."
The user can place various room shapes, resize them and bump them to create the floor plan. There is a library of architectural components and accessories including doors and windows that can be placed and positioned using the actual dimensions. When the floor plan is complete, the file can be stored on the cloud and imported into the Chief Architect desktop software.
Room Planner creates a full 3D model to assist in visualizing and verifying the space. Remodelers will find the 3D feature helpful in showing clients quickly what a new room addition might look like prior to investing a lot of design time.
Room Planner is available as a free download (saving disabled) and a full version for $9.99. Both can be downloaded on iTunes and Google Play.