Confindustria Ceramica Brings 122 Italian Brands to Coverings 2016
---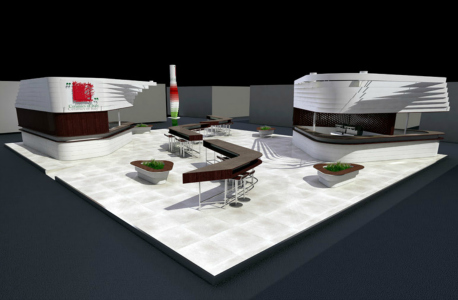 March 25, 2016
From April 18-21, Ceramics of Italy will bring one of the largest international contingents to Chicago for the 27th edition of Coverings tile and stone industry exposition. Organized by Confindustria Ceramica (the Italian Association of Ceramics) with support from the Italian Ministry of Economic Development, the Italian pavilion will feature 122 brands introducing design trends and technical innovations in tile and installation products, as well as a newly designed central stand to serve as an industry information hub and authentic Italian café. 
In the heart of the Italian pavilion, the Ceramics of Italy booth (1531) will feature a new design by the New York firm e+i studio. With benches, standing communal tables and two large kiosks housing a café, coffee bar and information desk, Strada Dinamica will evoke the configuration and movement of a lively Italian streetscape. The space will function not only as an information point and lunch destination, but also as a showcase of the inventive offerings from Ceramics of Italy member manufacturers. Furnishings will be clad in Magnum Oversize tiles from Florim, and large format tiles from Lea Ceramiche will be set on a raised flooring system by Newfloor while the installation and maintenance of the space will be facilitated by grout and cleaning products from Mapei and Fila Surface Care Solutions. 
Surrounding the Ceramics of Italy space, Italian manufacturers will showcase the latest design concepts and technical advancements in tile and adhesives in the Italian Pavilion. From artisanal ceramics, mosaics and ceramic-porcelain hybrids to oversized porcelain slabs, antibacterial grouts and easy-laying floor systems, hundreds of products will be shown. This year, hexagon and brick shapes, linear and fragmented designs, chevron and herringbone patterns and tiles in soft hues and marine color palettes are expected to dominate the show floor. Visitors can follow the "Made in Italy" trademark throughout the show to locate these products. 
For the seventh consecutive year, Ceramics of Italy will also participate in the Installation Design Showcase, a show initiative demonstrating the interdependent relationship of products, design and installation. This year, Ceramics of Italy is working with award-winning interior designer Alena Capra and NTCA Five Star contractors from Artcraft Tile and Marble to create a cross-section of a luxury boutique. Over the course of the show, visitors will observe the step-by-step construction of the space including the installation of tile in a variety of sizes and thicknesses, from intricate mosaics and three-dimensional wall tiles to textural floor tiles and a tile-clad central display. Sicis, Atlas Concorde, Tagina Ceramiche d'Arte and Ceramica Sant' Agostino have all donated tiles from award-winning collections, while Mapei provided the installation materials. The live demonstration will take place in booth 6245, culminating in the IDS Deconstructed Session and Final Reveal and Reception on Wednesday, April 20 from 3:30-5:30 p.m. where the team will discuss the project and invite attendees to explore the space and ask questions.