Cosentino Ends 2015 with More Than 100 Facilities Around the World
---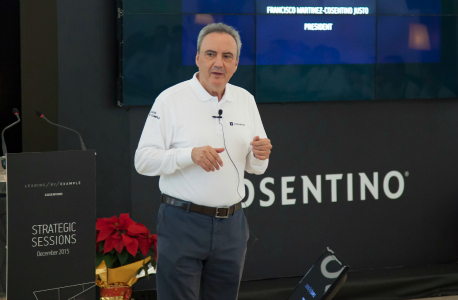 December 23, 2015
The Cosentino Group, global producer and distributor of stone and quartz surfaces, brought together its managerial staff in Almería, Spain for its 2015 Strategic Conference. This year's conference, entitled "Leading by Example," gathered over 90 of the company's directors, representing numerous business segments from more than 25 countries. 
During the conference, particular emphasis was paid to the roles of directors and middle managers, organizational aspects and the importance of managing talent and diversity – an increasingly important consideration as Cosentino employs more than 3,300 people worldwide representing 44 nationalities. 
Another key component in the broad diversification of Cosentino is the continued consolidation of its management and financial supervision. As a global operation, thorough control of the movement of currency exchange is required, in addition to the ability to adapt to each market's customer needs. Cosentino has continuously demonstrated this key quality through the progressive marketing of Dekton since its launch in 2013. The company's strategy of orderly, inclusive and cohesive growth has been illustrated throughout 2015, and has been evident in the hiring of 685 new employees around the world.
"The unwavering commitment of Cosentino's leadership to safety and improved working practices are a fundamental aspect of the company and contribute greatly to our growth," said Francisco Martínez-Cosentino, president, Cosentino Group. "As such, they will always remain a priority. In addition to these practices, our investments will extend into the growth of our sales network and towards continued innovation within our factories to include the most cutting-edge technologies."
This conference not only serves to assess the year-in-review but to also improve the strategic path of the group in the short and medium term. During the course of the last year, Cosentino opened more than 10 Cosentino Centers (comprehensive distribution and service platform) worldwide, two new Cosentino City centers in New York and Milan and acquired a major distributor based in Toronto. As a result of these operational developments, Cosentino ends the year with more than 100 of its own logistics and sales facilities around the globe.
The group's estimated consolidated sales for 2015 is $780 million, which represents a 20 percent increase in growth over 2014. Looking ahead to the future, a 2016-2018 Strategic Plan will be announced during the first months of the New Year.
Regarding attention to products, Dekton was a primary focus at the event given its growing importance in generating business, specifically relating to comprehensive projects and applications for façades, wall cladding, large-format tiling and worktops. The importance of the granite business, based at the large factory that Cosentino operates Vitória, Brazil, has also been reinforced. This site is in full expansion with new warehouses and the installation of machinery that will double the production of granite for subsequent international export.