Cosentino Group Brings Together Top North American Customers
---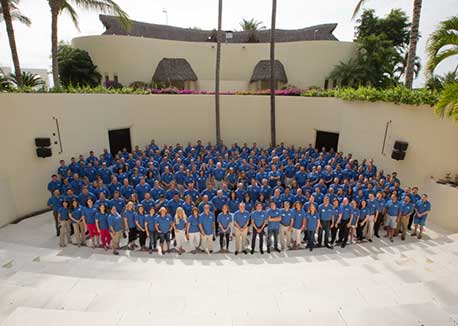 February 26, 2015
The Cosentino Group recently hosted its top customers from the U.S. and Canada for "Cosentino 100," one of the largest manufacturer conferences in the industry. This year's event, which took place in Puerto Vallarta, Mexico, had the highest attendance in its history with more than 300 attendees from 115 independent companies.
Cosentino Group president Paco Francisco Martínez-Cosentino and CEO of Cosentino North America (CNA) Eduardo Martínez-Cosentino shared their vision and the company's 2015 business strategy, which includes continued expansion in North America with plans to open nine new Cosentino Centers.
"Each year, Cosentino 100 serves as a meeting of the minds for our industry's thought leaders – where we all align and seize the innovation Cosentino is driving," said Eduardo Martinez-Cosentino. "These conversations deepen our relationships with our top fabricators and distributors so that we can provide them the best service and most innovative products available."
The recent introduction 8mm-thick Dekton also spurred discussion of innovative applications, such as flooring, wall paneling in high-moisture environments like the bath, as well as exterior facades.
"Dekton embodies Cosentino's passion for innovation and our commitment to help fabricators and distributors take their businesses to an entirely new level," said Lorenzo Marquez, vice president of marketing for Cosentino North America. "Cosentino 100 gives us unique, personal access not only to educate our customers on what's to come, but to celebrate our shared growth to come."