Cosentino Offers New Design Tools
---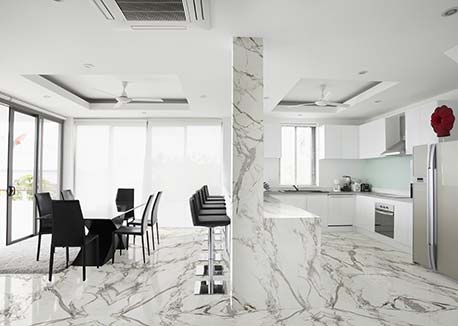 December 22, 2014
Cosentino has improved its digital experience for designers, fabricators and homeowners with the launch of three new online tools intended to enhance its product selection and customization options. The new Cosentino Digital Warehouse gives fabricators a library of slabs that can be previewed with clients before specification. The Cosentino HD Home Viewer and the Cosentino 3D Home simulator allow users to digitally customize a variety of environments by manipulating the architectural and design elements that influence a room's appearance.
"Cosentino is committed to equipping our partners with technologically advanced tools that efficiently present their customers with customized previews of Cosentino products," said Lorenzo Marquez, vice president of marketing for Cosentino, North America. "This new generation of environment simulators and slab digitalization tools will certainly enhance the level of customization and design capabilities for our surfacing."
The Cosentino Digital Warehouse allows specifiers to directly order a slab of granite or marble online by accessing images of available inventory from Sensa and Scalea, Cosentino's natural stone surfaces. The online tool provides precise measurements of each slab; autocorrects all images for distortions and lighting consistency; and notes any imperfections – outlining the usable area of the slab. Users can filter by specific size or application requirements to ensure material consistency and minimized waste in the fabrication process. Slabs can be applied to kitchen layout templates to create a preview of how it will appear installed.
For inspiration, designers and homeowners have two new online tools to access. The Cosentino 3D Home simulator, created for use on iPads, allows users to customize the elements of six different environments, including a modern kitchen, a classic kitchen, an outdoor kitchen, two bathrooms and an exterior space where Dekton may be applied to the façade. The technology of the app provides multiple viewing angles and lighting scenarios, as well as real-time, 3D movement throughout the room and camera zoom capabilities to see the details of the surfaces.
The Cosentino HD Home Viewer is an HMTL5-based multi-platform simulator with high-definition renderings of six spaces, including kitchens, bathrooms, outdoor and retail environments that can incorporate applications of Dekton. The user can customize the surfaces found in these environments by clicking on countertops, façades, wall coverings, floors, furniture and bathroom elements. The Home Viewer is intended for use on computers and all Android, iOS and Windows tablets, smartphones and smart televisions.