Cosentino Selected as Exclusive Surfacing Provider for PIRCH SoHo Flagship Showroom
---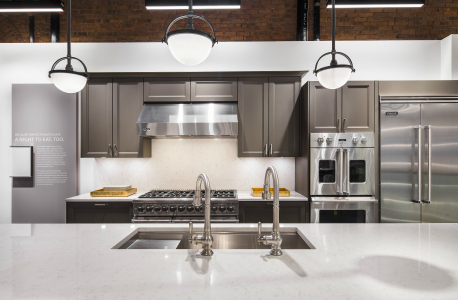 May 31, 2016
Cosentino, manufacturer of quartz, natural stone and architectural surfaces, announced a new partnership with PIRCH, the home retailer that brings home appliance brands to life in experiential showrooms. PIRCH has chosen Cosentino to be the exclusive surfacing provider of its new flagship showroom at 200 Lafayette Street in SoHo, New York, opened earlier this month. The showroom features a vast array of Dekton ultra-compact surface, Silestone natural quartz and Cosentino's natural stone products in a multitude of stunning and engaging applications.
At PIRCH, each showroom allows guests to "test drive" premiere kitchen, bath and outdoor appliances before they purchase. Guests are encouraged to engage with an array of products within fully functional vignettes equipped with live cooktops, ovens, refrigerators and grills, as well as working showers, sinks and baths. All PIRCH showrooms are staffed with Lifestyle Advisors, Personal Wellness Directors and a full-time culinary team, helping guests discover products that best suit their lifestyle. 
"We are very proud of our collaboration with PIRCH SoHo," said Eduardo Cosentino, CEO for Cosentino North America. "Cosentino shares the same approach to luxury lifestyle, innovation and high design that PIRCH embodies. This partnership with PIRCH underscores our commitment to partnering with top-tier brands while expanding our presence in Manhattan and nationwide."
The PIRCH SoHo partnership is an important move for Cosentino as the company continues to significantly expand its presence in the United States. 
"We are both excited and proud of our new alliance with Cosentino at PIRCH SoHo," said Jeffery R. Sears, CEO and co-founder of PIRCH. "It not only reaffirms our commitment to partnering with best-in-class brands, but our unwavering passion to ignite inspiration and discovery among our guests." 
Photo Credit: Pavel Bendov