Coverings 2015 Offers Multiple Conference Sessions and CEU Opportunities
---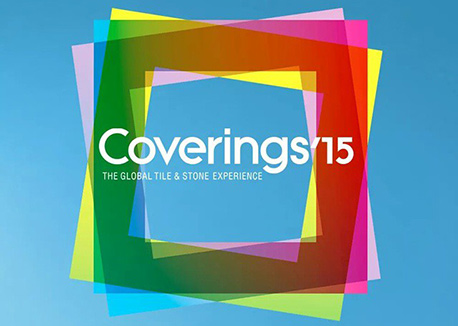 March 23, 2015
Coverings is offering a conference program comprised of more than 75 free sessions, many of which focus on topics of particular interest to architects and designers, and feature the added benefit of CEU credit. Coverings will take place in Orlando, April 14-17, at the Orange County Convention Center, with the education program beginning on April 13.
Along with the more than 1,000 global exhibitors, the free CEU credits and conference sessions are categorized by professional experience, ranging from novice to corporate leader, and Coverings is an AIA/CES Approved Provider, a NKBA CEU Provider Partner and is IDCEC approved. A list of AIA-approved sessions will be available online at coverings.com/education.
Conference topics relevant to the architect and interior designer segment include tile, stone and design trends; guidance on getting projects published in the age of social media; best practices for creating outstanding customer service; and the new ways technology has shaped tile and expanded its specifications.
Here are the details to some of these not-to-be-missed sessions:

Future Color

/Design Trends: Innovation and Impact. Color expert, Leatrice Eiseman of the Pantone Color Insitutute, will present on how to stay abreast of the latest color forecasts in a highly visual world and shares inside knowledge of factors driving these color trends. Attendees will learn how these trends impact business, which will help in making critical color decisions.
Playing With Formats. Coverings 2015 Industry Ambassador and certified kitchen and bath designer, Alena Capra, will discuss possibilities for working with tile in design, as well as proper implementation and how to identify the myriad of various options available, including surfacing, colors, sizes, textures, shapes and more.
Stone Trends 2015. President and owner of Marazita & Associates, Vince Marazita will deliver the 17th-Annual State of the Industry presentation on the dimensional stone market in the U.S. The session will cover information, sourcing, marketing and application trends in the stone industry over the last year, with examples of award-winning projects that have been recognized for their use of natural stone.

Color Theory and its Application. Director of design and marketing for Lunada Bay Tile, Feras Irikat will examine the impact of light, vision and texture on color in the design environment. His presentation will outline the basics of color theory and psychology followed by an engaging discussion of how materials such as ceramics, wood, textiles and glass can be fully integrated to create and define cohesive, beautiful spaces.

Joey Shimoda and the Sensuality of Surface. Joey Shimoda, chief creative officer of the Shimoda Design Group, will share insight on how architects and designers can use surface materials in innovative ways that set a tone and deliver a focused message about culture and design. Sponsored by Contract Magazine, lunch will be provided.

SketchUp: Rendering Techniques. SketchUp's Mike Tadros will present an overview of the range of rendering options and capabilities for users who are creating 3D models and visualizations. The presentation will also provide an in-depth look at the process for creating photorealistic renderings in SketchUp.
Specification 2.0 Harnessing the Full Potential of Tile in Modern Spaces. Specialized tile and stone expert, Ryan Fasan, will discuss the expanded areas of use for tile, as well as best practices and emerging industry standards applicable to these emerging innovations. Fasan will explore the limitless possibilities tile provides from modern technology to increased specifications outside kitchens and baths.
Getting Published. Designer Cheryl Clendenon and a panel of influential editors from regional and national publications, including Domaine Home, Hearst Design Group and Interiors & Sources, will present on how to get your projects published, how to identify what catches an editor's eye and advice on the best way to present work.
Trends in Tile. Representatives from Ceramics of Italy, Tile Council of North America and Tile of Spain – Christine Abbate, Marianne Cox and Ryan Fasan, respectively – will present on the advancements in cutting-edge digital technology and the revival of artisanal processes that have transformed the look and application of tile.
To learn more about conferences, programs, exhibitors and special events planned for Coverings 2015, visit coverings.com.