Danver Stainless Outdoor Kitchens and Walpole Outdoors Collaborate
---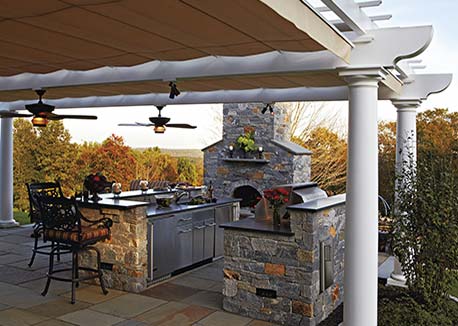 December 18, 2014
Danver Stainless Outdoor Kitchens and Walpole Outdoors, a manufacturer and distributor of architectural landscape products and structures, are working together to create outdoor kitchen coverings designed to promote backyard living year-round. According to Garden Media Group's 2015 Garden Trends Report, consumers are expanding their outdoor spaces for perennial use, making the need for high-quality outdoor kitchen coverings a priority.
Walpole Outdoors' new pavilion – to be introduced at the 2015 International Builders' Show/Kitchen and Bath Industry Show, Jan. 20-22, 2015 – and shade pergolas, will provide full coverage for Danver's stainless steel outdoor kitchens.
These specialized environments will be constructed from Walpole Outdoors' cellular PVC, which is low maintenance and has the same look and feel as real wood, but will not rot, warp or split. Walpole Outdoors' pergola and pavilions feature classically proportioned beams, joists and laths.
Walpole Outdoors' pergolas and soon-to-be-launched pavilions are available in more than 100 PVC-safe paint colors from Sherwin-Williams to complement Danver's selection of powder-coat finishes for its stainless steel cabinets. The outdoor cabinets are manufactured from durable stainless steel and are available with custom door styles in designer colors, creating a fully functional outdoor kitchen.