Del Conca USA Doubles Capacity
---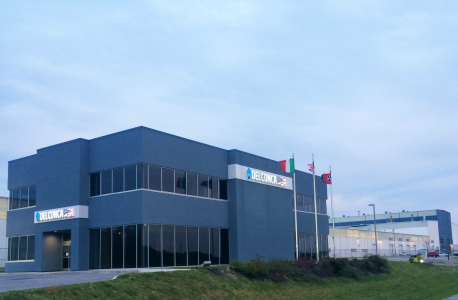 May 2, 2016
In just two years since it opened its US production facilities, Del Conca USA, a subsidiary of Del Conca Group based in Italy, has put in motion plans to double its capacity of porcelain tile production from 32 to 65 million square feet per annum. The increase is happening even faster than had been forecasted.  
This important industry news was announced by Enzo Donald Mularoni, CEO of the Del Conca Group, at Coverings, the tile and stone industry trade show.  
"We are proud to announce that our positive estimates when we opened our US facilities were not wrong," said Mularoni. "To the contrary, there has been enough demand to double our production lines in just two years.  This will equate to an increase in our capacity and new jobs for the community. We have already signed contracts with our suppliers and once again the technology will be entirely Italian – making it a perfect combination of Italian and American talent." 
The expansion, with work expected to begin during the second half of 2016, and production to start in early 2017, involves a further investment of $30 million both for construction and the purchase of new Italian technology. 
To date, the US plant, located in Loudon County, Tennessee, covers 320,000 square feet, but during the course of 2016 it will be expanded to include 430,000 square feet. This increase of production will also involve the hiring of additional local personnel. About 40 new employees, all American nationals, will be hired for the new production lines, in addition to the 85 currently employed. The new facilities will be dedicated to the production of large formats and tiles of increased thickness. 
"This additional investment in the United States, a truly strategic country for us, will allow us to increase our market share, making the entire group stronger," concluded Mularoni.