Devon&Devon Enjoys Successful Opening at LuxeHome
---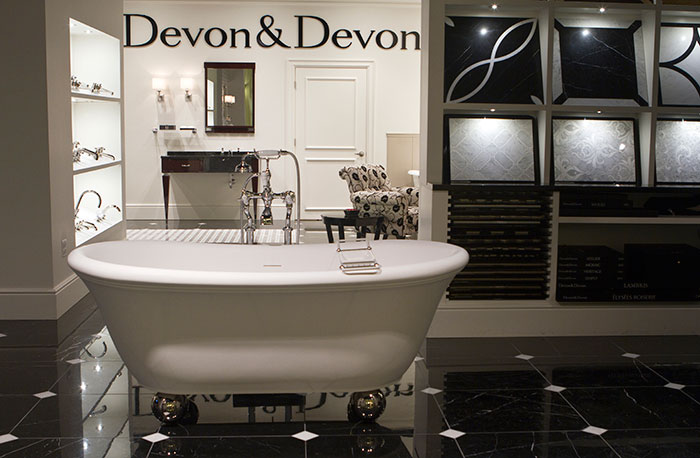 August 7, 2016
LuxeHome, the world's largest collection of premier boutiques for home building and renovation, located on the first floor of the historic Merchandise Mart in downtown Chicago, welcomed Italian bathroom design and furniture company, Devon&Devon, earlier this year.
Designed by Devon&Devon Art Director, Paola Tanini, the 1,500+ sq. ft. showroom features an air of elegance, highlighting the brands' most refined and eye-catching collections, including what is new in 2016. For instance, the Double Madison Console is the definition of timeless glamour, featuring black Marquinha marble on a delicate frame made of turned brass in a chrome finish. And, the Crystal Memphis Console, which supports a double sink in a single sleek display, demonstrates the signature way in which Devon&Devon expresses classic design. Also new is the Jazz 3 Vanity Unit, which pays homage to the design of the Bauhaus period – to its shapes, geometrics and proportions.
Visit the newly opened Devon&Devon showroom at LuxeHome, suite 115. And, plan to attend their open house and lunch during the Chicago Design Summit on September 14, 2016.
The Devon&Devon brand made its debut in 1989 in Florence as the offshoot of a business initiative of architects Gianni and Paola Tanini who, as CEO and Art Director, have been at the helm of the company since the outset, sharing the same managerial and creative vision: create a complete, coordinated bathroom inspired by European tradition and the most refined American design of the first half of the 20th century. Together, they have contributed to the growth and international renown of the brand which now exports to more than 80 countries with a network of qualified retailers and flagship stores in some of the major capitals of the world.