Earth Kitchen by Caesarstone To Be Revealed at Dixon's New Culver City Showroom
---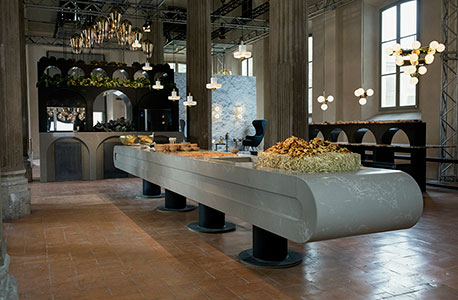 July 19, 2016
Celebrated British designer Tom Dixon and luxury quartz surface manufacturer Caesarstone recently launched "THE RESTAURANT" at Milan Design Week 2016 to worldwide acclaim. For the first time, Caesarstone will bring one fourth of that installation, the popular "Earth Kitchen" to the United States.
Dixon and Caesarstone will unveil the Earth Kitchen in the U.S. for the first time on July 21, 2016 at The Platform in Culver City, CA, where Dixon's newest showroom is located. The installation will remain open to visitors for several months.
Demonstrating the versatility and beauty of the Caesarstone surfaces, combined with Tom Dixon-designed dining halls and products, "The Restaurant" featured a variety of colors and materials that complement the mood and atmosphere of each specific element.
The Earth kitchen, inspired by the ancient Roman aqueducts, incorporates earthy brown tones of selected Caesarstone designs including light mushroom colored Tuscan Dawn and Concetto Albero, made from assembled segments of petrified wood.