Ed Begley, Jr. Lights Up Times Square with Bostik
---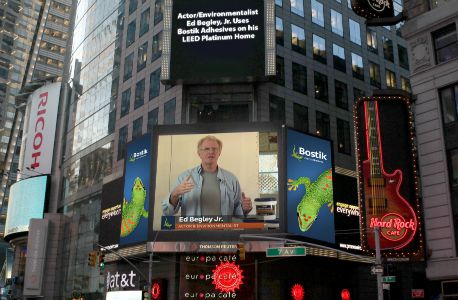 September 17, 2015
Bostik, Inc., manufacturer of adhesives and sealants, recently launched a national press program featuring a video of actor and environmentalist Ed Begley, Jr. In the video, Begley talks about the overall construction of his LEED Platinum home and, why Bostik's Ultra-Set SingleStep2 was an ideal choice for this very green project. In addition to coverage on hundreds of media outlets, the video could be seen on a 20-plus story digital sign in the center of Times Square, which is viewed by nearly two million people each day. 
"The Green Movement in America keeps growing and growing. And Ed Begley, Jr. is just as well-known for his positive environmental initiatives as he is for being an incredibly talented and successful actor," said Scott Banda, director of marketing for Bostik's Consumer & Construction Business Unit – Americas. "We're delighted with the strong response to this release… and are planning to do more with Ed moving forward."
In the past few months, other Bostik global image-building programs have included the promotion of the "Bostik Airplane," a sleek, Boeing 737-800 flying four times per day to 47 destinations across 20 countries. Bostik was also a major sponsor of the Tour de France.
"Bostik high-performance adhesives are being successfully used worldwide for a diverse variety of applications dependent upon products people utilize daily," said Michael Jenkins, business director for Bostik's Consumer & Construction Business Unit – Americas. "Globalizing the distinct image of our brand is a good 'step one' in getting everyday people to become even more familiar with the Bostik name and range of solutions our company provides. Times Square, being one of the most focal locations in the entire world, was an ideal venue for this recent message to appear."
Ultra-Set SingleStep2 is a high performance adhesive, moisture control and sound reduction membrane in one product. Bostik's breakthrough AXIOS Tri-Linking Polymer Technology used in this formulation maintains the long-term durability, moisture control and sound abatement properties of urethane adhesives. However, it is easier to spread and clean off of prefinished flooring before and after cure. This adhesive contains one percent recycled rubber material, has zero VOCs and does not contain any water.