Eldorado Stone Debuts Stone and Brick Veneer Visualizer
---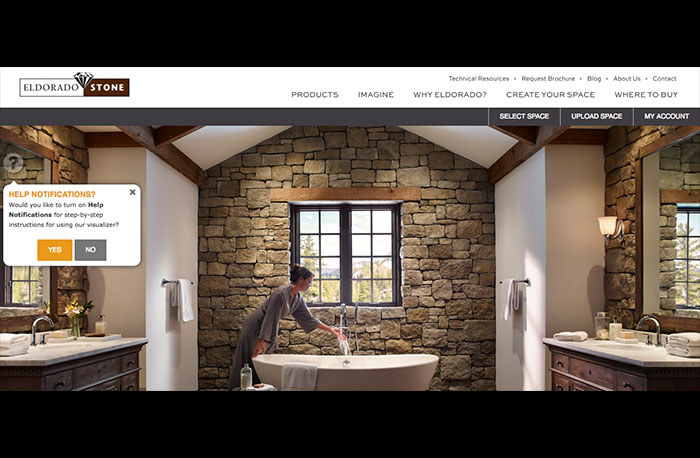 August 4, 2016
This new platform from the leading manufacturer of the world's most believable architectural stone veneer allows users to virtually texturize any space with all of Eldorado Stone's handcrafted stone and brick veneer options on their desktop or tablet.
"The new Visualize Your Space tool gives site visitors the power to imagine pre-set and personal spaces with stone and brick," said Ramsay Hawfield, Vice President of Marketing and Product Development at Eldorado Stone. "They can envision how it would look to have the dramatic Shadow Rock profile on their garden wall or how it would feel to include calming Zen24 in their bathroom remodel."
Homeowners, architects and designers can imagine their spaces by applying different collections, profiles and colors to either a pre-set category or a custom image upload. Users creating a custom space also have the ability to set the scale of the stone to increase believability of the install image.
"This tool will help anyone curious about including architectural stone veneer in their new project or remodel by inspiring the prefiguration of their spaces, and then empowering them with the tools they need to get started," said Hawfield.
Additional new features on EldoradoStone.com include:
• Revamped Resources: User-friendly brochures for trade professionals are available on the new site, as well as a more robust CAD resource library and weekly blog posts addressing topics such as industry specific tutorials and Eldorado product inspiration.
• Responsive Content: Integrated videos and flexible images are designed for mobile devices.
• Expanded Product Pages: The new website houses all the handcrafted Eldorado Stone architectural stone veneer products in one place, including Eldorado Outdoor, a line of outdoor stone accessories and Eldorado Fireplace Surrounds.