Experience Center Opens in Manhattan
---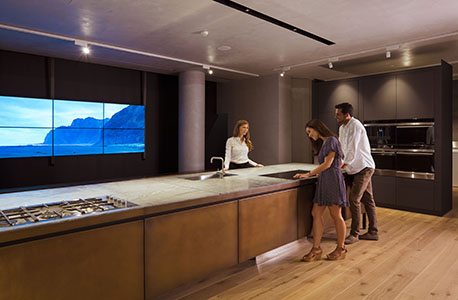 May 2, 2016
Fisher & Paykel Appliances has opened the Fisher & Paykel Experience Center in Manhattan's Architects and Designers Building. Architects, designers and customers are invited to interact with products in a unique and memorable way through both physical and digital elements.
"Opening a showroom in the Architects and Designers Building in New York is very special, as this building is a hub for architects, designers and design savvy customers," said Scott Davies, marketing strategy and delivery manager for Fisher & Paykel. "Additionally, the physical and digital design elements of the Experience Center create an innovative and interactive environment that allows our guests to have an experience that transcends that of a traditional showroom."
Design
The showroom is designed around the philosophy that a kitchen is a truly personal and social space and that kitchen design should be as diverse as the people who cook, live and socialize in them. With this philosophy in mind, the Experience Center is sectioned into four areas: the inspirational kitchens, product collages, planning tables and the working kitchen.
Uniqueness of Space
Whether a visitor is an architect, designer or passionate cook looking for kitchen inspiration and design direction, the Fisher & Paykel Experience Center was designed to be a truly inspirational environment to explore, plan, choose and cook. The environment features around a tailored design experience through product layouts as they would appear in the home; interactive technology that provides additional product
Information, including features and specifications; and a team of passionate design and cooking specialists to give authentic advice on product selection and use.
Digital Activations
Digital design features work hand in hand with the physical design of the showroom to effectively present the full range of Fisher & Paykel and DCS appliances. Through the digital activations, guests can experience products through an intuitive interface and seek out the information they need on a large-format digital screen. Additionally, the product information can be sent directly from the digital screens to a recipient's email for easy reference after a visit.
Design Partners
The Fisher & Paykel Experience Center is the result of a collaborative partnership among Fisher & Paykel, Alt Group, Fearon Hay and Satellite Media.