Farrow & Ball Reveals Key Colors for 2015
---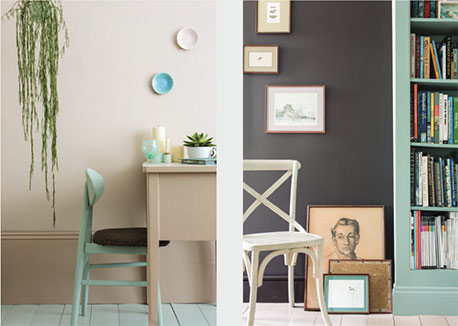 March 20, 2015
Farrow & Ball has identified the colors that will appeal to homeowners over the coming year. The hues reflect a desire to create spaces offering escapism from increasingly nomadic working lives, where smart devices keep us connected 24/7.
The company has selected: Pink Ground, Light Blue, Breakfast Room Green and Tanner's Brown to promote relaxation and reflection in interiors. Paler in appearance, they help create spaces that live and breathe as homes become places of sanctuary from the stresses of modern-day living.
Breakfast Room Green:
Breakfast Room Green (pictured above left) feels lively at any time of day. Taken straight from nature, it promotes safety and calm in a home environment. Its slightly botanical feel creates a fresh room. This trend reflects a shift away from hard, graphic interiors to a softer, more natural feel with a modern twist.
Light Blue:
The use of Light Blue (pictured above right) in the home is intended to create an interior where colors shift and change like the landscape. One instinctively gravitates toward colors reminiscent of the softer side of life to make our homes into an oasis of calm away from the brashness of modern life.
Pink Ground:
Pink Ground (pictured top left) creates a humble beauty in the home, making rooms feel pretty, soft edged and accessible. Although warm, this pink is not sugary or infantile, rather it feels more like a diluted plaster color where walls look almost nude.
Tanner's Brown:
Although lighter, paler tones are highlighted in 2015, darker tones remain best where natural light is lacking. Create darker, dramatic spaces with Tanner's Brown (pictured top right), and at the same time make other areas feel lighter in comparison. This earth brown feels timeless and has an artisan look to it.