GE Appliances' FirstBuild Chooses Winning Designs for Cold Brew Challenge
---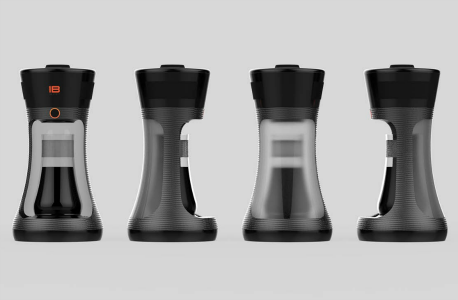 May 3, 2016
GE's FirstBuild has announced the winning designers of its new Pique Coffee Brewer through its Cold Brew Challenge: a product design competition drawing upon the power of crowdsourced design and the FirstBuild community. Nearly 50 entries were submitted for Pique, which is expected to go to market this summer on Indiegogo, the world's largest crowdfunding platform. Pique has the capability to make a full pot of rich, deeply flavored cold brew coffee in under 10 minutes, a 98 percent reduction in brew time.
For the first time, FirstBuild is offering 1 percent of the campaign funding from Indiegogo to be shared by the winning designers, up to $30,000 in total awards. While the amount of funding varies and there are no guarantees, FirstBuild's most recent Indiegogo campaign for its Opal Nugget Ice Maker received more than $2.77 million in funding.
FirstBuild, which embraces the brainpower of the maker movement at its Louisville micro-factory and around the globe, challenged makers to show off their industrial design capabilities and user-experience insights. Entries were developed using Autodesk Fusion 360, a product development tool that brings together design, collaboration and fabrication in a single platform.
"We had so many great entries from our community members," said Taylor Dawson, product evangelist at FirstBuild. "It demonstrates passion for bringing a cold brew product to market. The FirstBuild community has a track record of creating the kind of products that consumers want."
The FirstBuild community nominated the top ten designs. A panel of veteran industrial designers and coffee aficionados then selected three winning entries:
The First Prize of $5,000 was awarded to Nick Allen of San Francisco for his "Pique" design, an elegant hourglass form with a simple and intuitive user interface.
The Second Prize of $3,000 went to the LPK Design Team of Cincinnati, for their "1B Cube" design. The design included a modular, two-piece cube created with the brewing process in mind.
The Third Prize of $2,000 was awarded to Robert Matzke of Germany. Robert designed the sleek "Cold Fusion," combining organic and geometric shapes with a sculptured carafe.
The winning designers are also eligible for a portion of the earnings of the upcoming Indiegogo campaign. 
While the options for hot coffee at home are virtually limitless, consumers prize cold brew (coffee brewed in room temperature water) for the smooth, balanced flavor profile resulting from its low acidity. A satisfying cup of cold brew traditionally comes with a 12- to 24-hour wait. 
"Interest in cold brew coffee has grown exponentially in the last five years. Pique is positioned to serve a passionate existing customer base looking for a better cold brew experience," said Dawson. "FirstBuild's co-created products are on the leading edge of the appliance industry. It's that collaborative approach that continually results in fresh thinking."