GE's FirstBuild Mega Hackathon Delivers "Wow" Appliance Concepts
---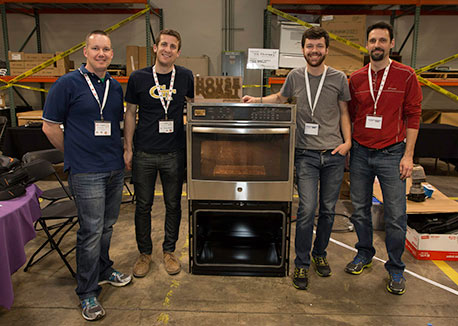 April 21, 2015
FirstBuild, a global co-creation community, announced the winners of its 33-hour Mega Hackathon: Hack the Home challenge. Teams of more than 200 makers, designers and engineers converged at FirstBuild's microfactory in Louisville, Ky., to hack and build major appliance innovation for the home of the future. More than $60,000 in cash and other prizes were awarded.
With access to advanced manufacturing tools such as 3D printers, laser cutters, water jets, ShopBots and HandiBots, the teams hacked GE appliances to conceive and create innovation. FirstBuild is an online community of engineers, designers, makers and home enthusiasts dedicated to conceiving, co-creating and building the next generation of major home appliances.
The top three winning teams are:
1st Place: THE ROASTERS (pictured top)
Rob Lewis, Joshua Longenberger, Ali Faraji-Tajrishi, Nick Dillon, Rick Suel
The winners adapted a conventional GE wall oven to roast coffee precisely using an Arduino control. Their invention, House Roast, adjusts the oven temperature automatically to mimic the professional roasting of coffee beans.
2nd Place: FIX OF WATER
Nelson Tanquero, Mark Shelton, Michael Large, Jose Padron
Use voice commands to control the water dispenser on your GE refrigerator from a mobile device or tablet. The Fix of Water team hacked a GE fridge to provide filtered water by voice command to illustrate the possibilities for interaction with the appliances of tomorrow.
3rd Place: CROCK WATCH
Jason Chodyniecki, Taylor White, Bill Piepmeyer, Keith White
WiFi-enabled remote control crockpot with video that gives you greater control without being there. Crock Watch lets you control your crockpot from afar with an app and even monitor the cooking process with a unique video capability, so not only can you see the cooking process but when it's done you can shut it off without being there. Slow cooking is a popular trend, but existing crockpots stay at the present temperature until you return to adjust or shut them off.
"We are excited to open our state-of-the-art microfactory to makers to ideate and take advantage of our advanced manufacturing facility," said Natarajan Venkatakrishnan, director of FirstBuild. "The ingenuity generated by these teams was outstanding and illustrates how ideas can come from anywhere. We opened our facility to the maker community, and in a day they created innovations that can impact appliances of tomorrow."