Hanley Wood Releases REMODELING Magazine's 2016 Annual Cost vs. Value Report
---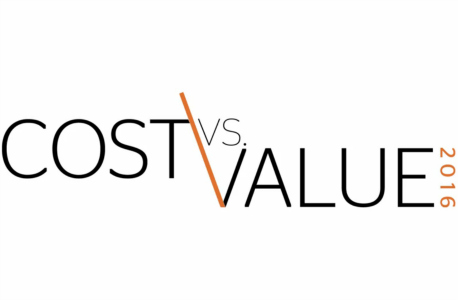 January 18, 2016
REMODELING Magazine announced the release of its 29th annual Cost vs. Value Report comparing construction costs with resale value for 30 of the most popular home improvement projects in 100 U.S. markets. Bigger and more expensive projects, rising new home prices, curb appeal and energy efficiency all contributed to a slight gain in remodeling projects' payback at resale, with an average return of 64.4 percent return if the home is sold within a year. That's up from 62 percent in the 2015 report and the second-highest return in the past eight years.  
The 2016 report, which compares changes in home improvement costs – both nationally and regionally – with real estate professionals' perceptions of what those projects will contribute to a home's price at resale, reflects that better times are yielding higher returns. Of the 25 projects for which the real estate pros increased the estimated payback targets, many of the largest percentage gains were for higher-dollar "upscale" projects, which are more complicated than baseline mid-range projects.  
"More often than not, real estate professionals raised their estimates because their views on the value of remodeling are closely tied to the state of the local real estate market, which through last October has enjoyed a 5.9 percent increase from the year earlier – and according to the National Association of Realtors, that's on top of a 5.7 percent gain for 2014," said Craig Webb, editor-in-chief of Hanley Wood's REMODELING and lead author of the 2016 Cost vs. Value Report. 
In 2016, the top five recouping projects nationally and various price ranges included several kitchen and bath projects including Mid-range Bathroom Addition (56.2 percent), Upscale Bathroom Remodel (57.5 percent), Mid-range Major Kitchen Remodel (64.9 percent), Upscale Major Kitchen Remodel (61.5 percent) and Upscale Master Suite Addition (57.2 percent).
The entire 2016 Cost vs. Value Report is available online at www.remodeling.hw.net. New for 2016 is a video designed just for homeowners and sellers wishing to maximize their sales price.