Houzer Holds 2016 Mid-Year Sales Conference
---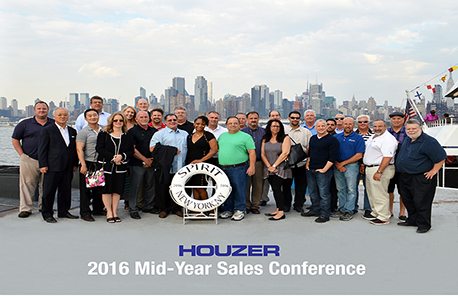 July 11, 2016
Sink manufacturer and innovator, Houzer, held their 2016 Mid-Year Sales Conference at their Corporate Headquarters and distribution facility.
With a focus on delivering value to their nationwide network of 3000+ dealers, Houzer's National Team gathered for the introduction of several new products being launched in the second half of 2016. National Sales Manager Jeffrey Buckley presented compelling initiatives, strategic objectives and increased flexibility to address their dealer's needs. Dale Carnegie Senior Consultant and Trainer Radia Carr, ranked No.3 in the US, spoke on the importance of customer relationships and providing personalized value.
One of the conference highlights was a dinner cruise featuring New York City's iconic skyline, the Statue of Liberty and One World Trade Center. The conference closed with the emphasis on being number one in every category including innovation, value, quality of products, customer service and representation, providing for an exceptional customer and end user experience.