Houzz Launches Online Video Channel HouzzTV
---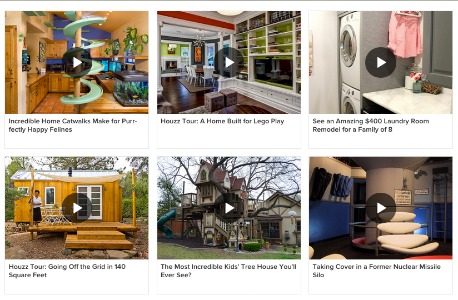 May 20, 2015
Houzz, an online platform for home remodeling and design, has launched HouzzTV (houzz.com/houzztv), a dedicated online video channel on Houzz featuring original productions that blend community, content and commerce. HouzzTV was launched in response to demand from Houzz users to connect with, share and experience Houzz stories through video.
HouzzTV launched with "Inspired Houzz," a series of shorts highlighting creative homeowners and the homes that give them joy and fuel their lives – from a single dad who remodels an airstream trailer and creates a home for his daughter, to a mother of six who creates a spectacular laundry room on a $400 budget. The second series, called "My Houzz," featured Ashton Kutcher in the first episode, and follows people renovating the home of someone meaningful to them. All HouzzTV programming will support the company's mission to inspire and empower people with technology to create better homes for themselves, no matter their style or budget. 
"Houzz transformed the home renovation and design industry by connecting the largest community of home professionals and homeowners on the web with amazing content and commerce – and HouzzTV brings all three of these pieces to life," said Adi Tatarko, Houzz cofounder and CEO. "With the largest online community of homeowners and home professionals, we have a unique opportunity to share incredible home projects that are happening around the world, and to showcase the different ways people are using Houzz technology to create their dream homes and live better lives."  
Launched in 2009, Houzz provides an end-to-end resource for designing and renovating the home where users can find inspiration, get advice from the largest home community on the web, collaborate with others involved in the process, research and hire professionals, buy products and manage home projects from start to finish.