Hudson Valley Lighting Breaks Ground for New Headquarters
---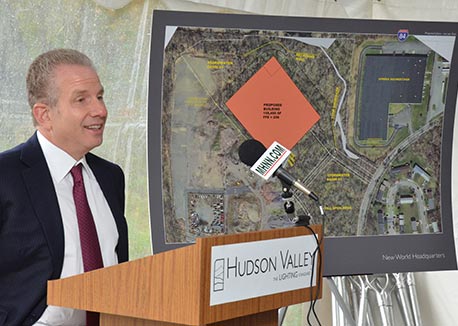 November 18, 2014
David Littman, founder and president of Hudson Valley Lighting, celebrated the official groundbreaking of its new world headquarters in the city of Newburgh, NY. The new location will house a 140,000-sq.-ft. research and development, design, production and distribution center located on the 15.2 acres of the former City of Newburgh landfill on Scobie Drive.
"The Hudson Valley is my home," said Hudson Valley Lighting founder and president David Littman. "While much of the lighting industry has largely outsourced to Asia, we are more committed than ever to manufacturing and distributing right here in Newburgh."
Hudson Valley's new headquarters will help the City of Newburgh environmentally, as well as economically. The new grounds will take up the former site of the City of Newburgh municipal landfill, which will be remediated and transformed into a viable, productive property. As one of the few existing areas with the zoning and infrastructure capacity to serve manufacturing and industrial development in the City of Newburgh, this project is designed to spur additional development activity and sustainable growth in the area. This $20.8 million project will retain 180 jobs and add 50 more permanent positions to the Hudson Valley Lighting payroll over the next five years.
The expanded facility is also a continuation of Littman's commitment to broadening U.S. manufacturing and distribution facilities company wide. In 2011, a dedicated 200,000-sq.-ft. West Coast headquarters which houses research and development, design, production and manufacturing facilities for Corbett Lighting, Troy Lighting and CSL Lighting opened its doors. This new facility is just blocks from its previous site in City of Industry, CA, also maintaining its same staff while increasing jobs in the area.