Huntwood Custom Cabinets Opens Bellevue Showroom
---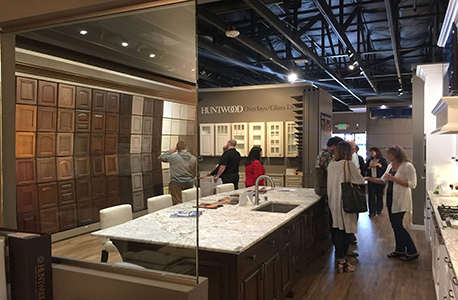 June 24, 2016
Huntwood Custom Cabinets recently celebrated the opening of its new showroom in Bellevue, Wash. The design studio features the latest in kitchen and bath trends, from contemporary, high-gloss, European-style frameless cabinetry to traditional painted flush-inset cabinets. 
According to marketing director for Huntwood, Garth Everett, the goal of this new space was to provide a comprehensive demonstration of the range of Huntwood's advanced manufacturing capabilities, showcasing both framed and frameless cabinetry in several different design styles.  
"The designers at Huntwood took careful consideration in each display not only for design theme but also subtle construction techniques, allowing each display to educate and illuminate the subtle design differences available in custom cabinet construction," he said.
Included in the showroom are educational displays that feature a variety of wood species in their natural form so clients can understand grain and color patterns, as well as an overlay wall showing the differences in framed and frameless cabinetry and showcasing the choice among standard overlay, modified full overlay, full overlay, flush inset and flush beaded inset details.  
Choices in door construction techniques are displayed to inform the client on mortise and tenon, metered and applied moulding doors," he added, "and a 30-ft.-long door wall highlights the freedom of choice in combining door design with any wood species in any stain color."