InSinkErator Announces New eLearning Center Course
---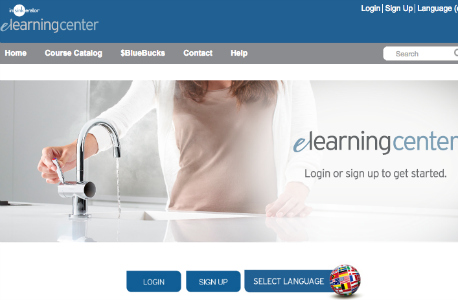 May 10, 2016
InSinkErator has launched its newest online training course, HOT100, as part of the company's eLearning Center.
HOT100 is the newest addition to the InSinkErator eLearning Center for wholesale channel partners, joining these modules: 1) Disposers 101 and 2) Hot Water 101. Disposers 101 is an introduction to how food waste disposers work and how they can benefit homeowners and the environment. Hot Water 101 provides an overview of instant hot water dispensing systems and their function. It also provides helpful information about selling the benefits to homeowners. And, the new HOT100 course focuses on this model's unique features and benefits.
InSinkErator is offering double $BlueBucks rewards in conjunction with the release of its newest course. Online learners earn $BlueBucks by successfully completing the courses, and for a limited time, get double $BlueBucks for finishing the HOT100 module. $BlueBucks are redeemable for gift cards at hundreds of retailers.
"Our customers emphasize the importance of training to understand the features and benefits of our food waste disposers and hot water dispensers. And, our HOT100 dispenser has already proven to be exceptionally popular," said Rob Grim, senior vice president of sales, InSinkErator. "Our newest eLearning Center course on the HOT100, like our other modules, is designed to deliver training in an efficient, informative and fun way."
InSinkErator plans to offer additional courses in the future. Registration is available at www.insinkerator.com/elearning.