Jennifer Gilmer's "The Kitchen Bible" To Be RePrinted
---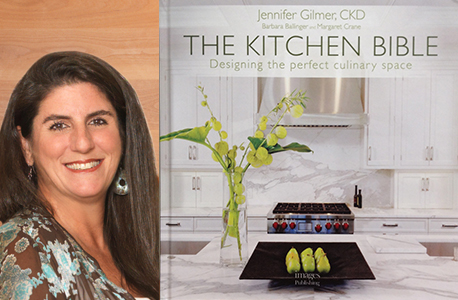 July 12, 2016
Images Publishing of Australia has reprinted "The Kitchen Bible" by Chevy Chase designer Jennifer Gilmer of Jennifer Gilmer Kitchen and Bath. A lifelong Chevy Chase resident, Gilmer's first kitchen design book was originally published in June 2014 and quickly sold-out.
In The New York Times, Jane Margolies extolled "The book clearly lays out the steps involved in a kitchen redo. Although geared more toward those who will be working with a kitchen designer…the book offers advice…that is useful for do-it-yourselfers, too."
With more than 250 full color photographs and 224 pages, the "Bible" is a comprehensive resource for first time renovators and veteran remodelers alike. Written with co-authors Barbara Ballinger and Margaret Crane, the book takes the mystery out of working with a kitchen designer. Gilmer shows how a skilled designer can reimagine a kitchen space and transform its shortcomings into assets. As one of her clients commented, "Jennifer showed us space we didn't know we had."
The first chapters lead readers through the planning process, from choosing a kitchen designer, to understanding the phases of design development and suggests pertinent questions for homeowners to ask various professionals before starting a new project. More than 50 JGKB kitchens are included in the book and illustrate the firm's expansive range of styles.
Subsequent chapters explore popular topics like energy efficiency, accessible design, new product innovations, and transition into an impressive collection of "Great Kitchens to Inspire," subdivided into helpful categories such as "Long and Sometimes Narrow" and "Multitasking Magicians."
"The process of creating this book has been a very rewarding and interesting addition to my career. It is the culmination of many thousands of hours spent drawing and designing kitchens for over 1,000 wonderful clients. It's so satisfying to be able share these with so many people." says Gilmer.
Gilmer is available for interviews and appearances. For booking presentations, media appearances, interviews, and/or book signings contact pcasey@gilmerkitchens.com, 301-657-2500 ext. 216.