KBB's Product Innovator Awards Open Today
---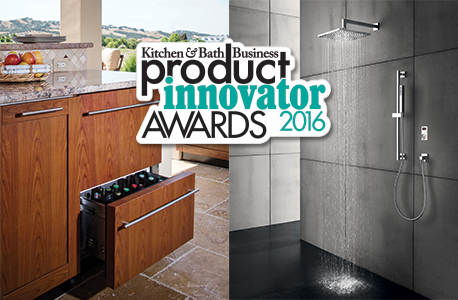 June 16, 2016
Kitchen & Bath Business' Product Innovator Awards are open for business! The awards honor manufacturers for superior product innovation. If you are a manufacturer that has unveiled a new kitchen or bath product in the last 12 months that has not been previously entered, you're eligible to enter the 2016 KBB Product Innovator Awards.
We are accepting submissions from now until August 18, so don't miss out on your chance to be recognized. Click here to enter: Product Innovator Awards. Initial entries are $175 from a manufacturer/brand, and each additional entry from that same manufacturer/brand is $75.
Entries will be judged by a panel of industry professionals, who will base their decisions on a variety of criteria, including innovation, aesthetics, function and technical advancements. Winners will be announced and published in the October 2015 issue of KBB, as well as in an online news feature with a photo gallery on kbbonline.com.
Here are some more important facts:
Projects must have been installed/completed within the last 12 months and not previously entered.
Entrants may submit as many products as they choose, but the same product may not be entered into more than one category.
All questions on the entry form must be answered fully to help judges better understand the product.
Professional-quality, high-resolution digital photography must be submitted with each completed entry form. By submitting photography, you are granting KBB the right to publish it free of charge.
If you are a PR firm submitting on behalf of multiple manufacturers/brands, each manufacturer/brand is $175 per entry; $75 each additional entry from the same brand/manufacturer. You as the PR firm are not considered the manufacturer/brand under this rule.
Take a look at last year's winners here!
Any questions? Please direct those to Chelsie.butler@emeraldexpo.com. We look forward to receiving your submissions!