KitchenAid Supports Breast Cancer Awareness Month with Cook for the Cure
---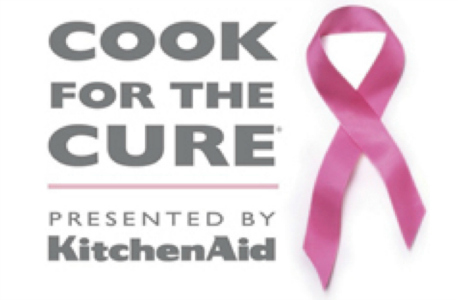 October 15, 2015
During Breast Cancer Awareness month in October, Cook for the Cure, a partnership between KitchenAid and Susan G. Komen, offers a number of ways for cooks and foodies to help support the fight against breast cancer. 
"KitchenAid is proud of our 14-year long partnership with Komen, and the tremendous success we've shared in raising awareness for this important cause," notes Beth Robinson, senior manager of brand experience for KitchenAid. "As of this year, we've raised over $10 million for Cook for the Cure, and we continue to explore new ways to keep cooks engaged with the cause."
The brand has launched a new social media-based program called 10,000 Cupcakes, One Great Cause that encourages cooks to whip up a cupcake recipe, snap a picture of the finished product and share it on Twitter or Instagram using the hashtags #10000cupcakes and #donate. For of the entire month of October, KitchenAid will donate $1 for each cupcake photo that is shared up to $10,000. Program details are available at http://cookforthecure.kitchenaid.com/10000cupcakes. 
The Cook for the Cure product collection from KitchenAid is expanding with new products, including a ceramic bowl for the five-quart stand mixer. The white bowl is decorated with light and dark pink polka dots, adding a cheery splash of color to the kitchen. The bowl features a convenient pouring spout and is dishwasher and microwave safe. In addition, the brand recently unveiled seven- and 11-piece cutlery sets that will be available in Raspberry Ice, a bold and bright shade of pink, for a limited time only. The cutlery sets are constructed with German-manufactured steel that undergoes a precise ice-hardening treatment, which uses a series of heating and cooling patterns to strengthen corrosion resistance and flexibility. The sets will be available through October 31. 
Additionally, KitchenAid launched a Cook for the Cure cookbook, filled with more than 110 recipes and culinary inspiration for cooks. The book will be available on Amazon.com.  
Additional ways to get involved in the program include the Pass the Plate initiative, which invites cooks to register and pass an individually numbered Villeroy & Boch serving plate that features artwork by Chef Jacques Pépin. Each time the plate is passed to a new recipient, a $5 donation is made to Komen. The plate is available at Villeroy & Boch stores or by calling the KitchenAid Experience Store. 
Lastly, fundraising parties are a great way to catch up with family and friends on your own schedule and in your own home. Hosts can encourage their guests to bring a donation for the cause, in lieu of a host gift, and visit CookfortheCure.KitchenAid.com to access an information kit that includes party ideas, recipes and donation gathering information. 
In 2015, KitchenAid will donate $450,000 or more to Komen through the Cook for the Cure program. Product sales will not affect this donation.