Kohler to Design Closed-Loop Flush Toilet System
---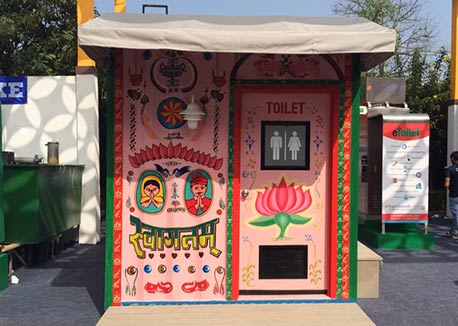 November 28, 2014
For more than two years, Kohler has collaborated with Caltech in the development of a photovoltaic toilet as part of the Reinvent the Toilet Challenge, hosted by the Bill & Melinda Gates Foundation. In response to this successful project, the Gates Foundation recently approved a two-year grant to Kohler to design and fabricate five closed-loop flush toilet systems for field-testing in developing world locations without adequate sanitation.
"Our goal of creating a completely off-the-grid toileting system that is easier to transport and easier to maintain will allow us to place toilets in more locations around the world that have inadequate sanitation," said Rob Zimmerman, sustainability manager for Kohler. "And that allows us to improve the lives of more people."
With the recent announcement from India's Prime Minister Narendra Modi, promising through his Swachh Bharat Abhiyan (Clean India campaign) to build 100 million toilets across the country, global interest in the developing world's sanitation conditions is higher than ever.
"There are 2.5 billion people in the world without access to adequate sanitation," said Zimmerman. "While education is an issue, there is also need for sanitation facilities that are hygienic, cost effective and provide an aspirational toileting experience."
Kohler will use the field findings to further improve its system with the goal of making it a more transportable unit. The toilet system includes a self-contained water purification and disinfection system that allows water to be reused and does not require wastewater disposal.