LG Studio Named Exclusive Home Appliance Partner of 2016 San Francisco Decorator Showcase
---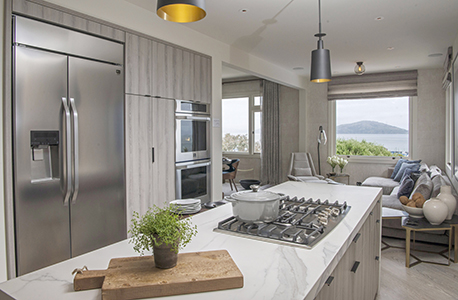 May 12, 2016
LG Studio has been named the exclusive home appliance partner for the 2016 San Francisco Decorator Showcase, one of the nation's premier showhouse events.
The 2016 San Francisco Decorator Showcase spotlights the Villa de Martini, an elegant home on top of Telegraph Hill that has been transformed by the West Coast's top designers. Open to the public through May 30, this year's showcase home features more than two dozen transformed rooms and outdoor spaces.
As the official appliance sponsor of the showcase, LG Studio appliances are featured prominently in the home's high-end kitchen, which was designed by the team at Martin Kobus Home. They include the new 42-inch built-in side-by-side refrigerator, one of the many products in the LG Studio line of appliances incorporating the design influence of renowned designer and LG Studio Artistic Advisor Nate Berkus. Also featured in the showcase kitchen are the LG Studio double wall oven, gas cooktop and dishwasher.
LG just unveiled additions to its Nate Berkus-inspired Studio suite, including the side-by-side built-in refrigerator, single- and double-wall ovens and gas cooktops. Berkus has been working with LG's design team for the last two years to ensure the LG Studio line of appliances blends best-in-class innovation with sleek, sophisticated design.
The LG Studio kitchen suite has been designed with seamless integration in mind, highlighting clean lines and a unique, modern feel that seamlessly blends with any kitchen's decor. Noteworthy design elements include a stainless steel ice and water dispenser and LED task lighting in the refrigerator; stainless steel metal knobs with sleek SmoothTouch glass controls on the control panels of the wall ovens; and unique red light indicators on the cook tops.
The 2016 Decorator Showcase will be held at 298 Chestnut Street, San Francisco, through Memorial Day. The showcase is open to the public on Tuesdays through Sundays and is closed on Mondays, except for Memorial Day. For hours and ticket information, please visit http://decoratorshowcase.org/tickets/.