Luxe Interiors + Design to Host Pavilion at ICFF Miami
---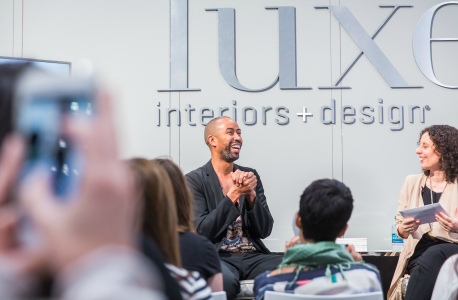 July 18, 2016
ICFF, the North American series of design events for interiors, announced that Luxe Interiors + Design will host the Luxe Interiors + Design pavilion at ICFF Miami, October 5-6, 2016, growing the partnership the two design industry brands first created at ICFF's New York event.
The Luxe Interiors + Design pavilion will be a primary focus in Miami, encompassing 8000 sq. ft. of the show floor within the Miami Beach Convention Center. Featured exhibitors in the pavilion will include All American Floors, Cambria, Caracole, Hamilton Sinkler and Diane Paparo Interior Design, with additional programming and speakers planned in the pavilion's lounge area.
"Having been a part of the South Florida design community for more than a decade, we are proud to partner with ICFF Miami to bring the Luxe Interiors + Design pavilion to this inaugural show," said Alan Blaustein, president and publisher of SANDOW's Luxe Interiors + Design. "Given the success of the Luxe Pavilion in New York this year, we're thrilled to have the opportunity to connect with local brands, including those from the Caribbean, Mexico and Central and South America, and introduce them to the design community at large." Luxe Interiors + Design will also sponsor the ICFF Miami opening night party, taking place the evening of October 5 on the show floor.
"This is our third ICFF show working with the Luxe team, and the support both organizations have been able to provide one another continues to grow," said Kevin O'Keefe, ICFF event director. "The Luxe pavilion will bring an incredible line-up of design inspiration to our inaugural Miami show and to everyone. 
Registration for ICFF Miami is open at www.icffmiami.com.