MaxLite partners with ENERGY STAR to raise funds for Habitat for Humanity
---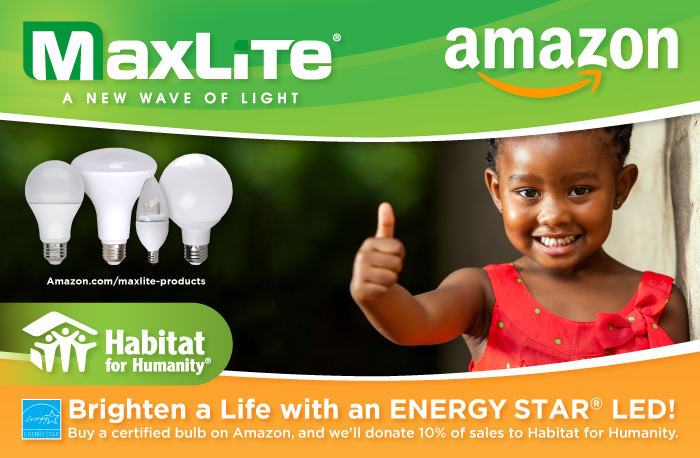 September 14, 2016
MaxLite, a global manufacturer of energy-efficient lighting, is encouraging consumers to choose ENERGY STAR certified LED bulbs on Amazon to benefit Habitat for Humanity during the month of October. MaxLite will donate 10 percent of sales from select ENERGY STAR certified products sold on the website throughout the month to Habitat for Humanity, which helps families gain strength, stability and self-reliance through shelter. The promotion is part of the 2016 ENERGY STAR Change the World Tour, which brings community service and energy efficiency together to brighten lives across America.
The LED bulbs included in the promotion are the 9-watt A19 four-pack (60-watt equivalent); 8-watt BR30 four-pack (65-watt); 5-watt B11 three-pack (40-watt) and 6-watt (40-watt) G25 three-pack. ENERGY STAR certified LED bulbs use up to 90 percent less energy than standard bulbs and last 15 to 25 times longer. The featured bulbs are designed to fit most residential fixtures, and consumers can purchase the bulbs on Amazon.
"By our continued collaboration with ENERGY STAR, MaxLite remains dedicated to helping consumers save energy, save money and do its part to protect the climate by switching to more efficient lighting," said MaxLite CEO and President Yon Sung. "We are also a company strongly committed to giving back to the community through our support of Habitat. Through the Change the World Tour, we are helping to better lives in the present while preserving our planet for future generations."
Since 2013, MaxLite LED and CFL lamps and luminaires have supported affordable housing through programs like Habitat's Home Builders Blitz and Habitat for Humanity ReStore resale outlets. In 2015, MaxLite made a four-year, $1 million commitment to provide energy-efficient lighting products to Habitat to be used in sustainable and affordable housing.
"Everyone can join us in brightening a life with ENERGY STAR," said Ann Bailey, chief, ENERGY STAR Labeling Branch, EPA. "Each purchase of an ENERGY STAR certified LED bulb saves you money and makes a difference for the planet, but this October it can also improve the life of someone in need."
Learn more about the Change the World Tour at www.energystar.gov/brightenalife.