Merchandise Mart Design Center Showrooms Nominate 2015 Ones to Watch
---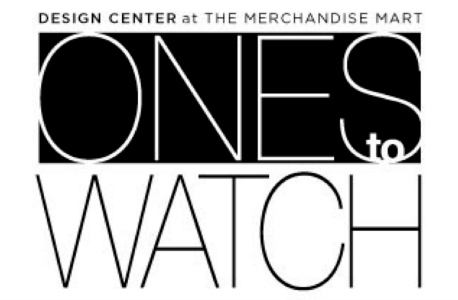 October 5, 2015
Each year, in preparation for Design Chicago, the Design Centers showrooms at Chicago's Merchandise Mart nominate and vote on up-and-coming interior designers who have demonstrated creativity, originality and overall great design. Fabulous interior designers know their talent requires a multitude of skill sets – staying true to classic forms, keeping up to date on the latest trends and always making sure their clients are happy. This year's Ones To Watch winners include three of Chicago's rising design stars: Brynn Olson of Brynn Olson Group LLC, Jillian Richey of Jillian Richey Interior Design and Stephen Young of Stephen Young Design.
"We are thrilled to honor and recognize these three rising stars who have demonstrated their commitment to creating innovative design and who the Design Center showrooms regard as some of the next big names in the industry," said Julia Chappell, managing director of marketing, Vornado | Merchandise Mart. 
The Design Center at the Merchandise Mart and LuxeHome will host Design Chicago, the Midwest's largest residential design conference and inspirational trade fair October 6 & 7, 2015 at Chicago's Merchandise Mart. Design Chicago will showcase a variety of educational and innovative programming including more than 35 educational presentations and CEU seminars, more than three dozen brand showroom open houses and a bevy of new products debuting from more than 65 showrooms throughout the Merchandise Mart. The two-day event will welcome leading interior design, architecture and luxury custom home building professionals. 
The 2015 Ones To Watch:
Brynn Olson, Brynn Olson Group LLC
Trained as an artist from childhood, Brynn began her design career creating large-scale indoor and outdoor painted murals for commercial spaces and residences. After attending Vanderbilt University and pursuing an academic-oriented career, her love for art and design reignited years later, and she joined Nate Berkus Associates in 2008. She furthered her education in Interior Design at Harrington College of Design while working full-time with the NBA family and managed and designed projects for commercial and private high-end residential clients and celebrities featured on/in "The Nate Berkus Show," "The Oprah Winfrey Show," Elle Decor, CS Interiors and Chicago Home + Garden. 
Her experience in the design process, project management and client relationships lead to the desire to open her own firm in 2012 under the belief that every environment should boast a timeless foundation infused with an edge that reflects the essence of each client. Her credence that "How you shape your space will shape your day" is the cornerstone to which each project is approached. The power of a well-designed interior is not only an immediate aesthetic transformation but also an incredible impact on the individual who lives, works or interacts with that space.
Jillian Richey, Jillian Richey Interior Design
Jillian Richey knew from a very young age that her passions in life were psychology and interior design. So the NCIDQ-certified designer established her namesake firm Jillian Richey Design to infuse her meticulous transitional style together with her clients' lifestyles in order to create timeless interiors that are as unique as each individual she designs for. Richey started her career by learning one facet of design at a time. Specializing in faucets and fixtures, appliance packages, natural stone tiles and cabinetry, she developed a keen eye for sourcing architectural finishes. This knowledge laid the perfect foundation for residential design.
After establishing the building blocks, Richey began working for a design build firm, where she learned the painstakingly difficult task of construction management. With a focus on kitchen and bath design, she was inspired by the psychology of humans interacting with their home environment to explore interiors that were both functional and beautiful. She developed an acute sensitivity for reading clients' needs and is able to ease the difficult home building/renovation process by really getting to know clients, diagnose their problems and make accurate suggestions to lessen the strain of decision making.
Stephen Young, Stephen Young Design
Stephen Young Design (SYD) is a Chicago-based interior design firm focused on creating spaces that reflect a luxury lifestyle. Design Director, Stephen Young, uses his unique perspective on contemporary living to influence each residence with a distinctive timeless appeal. A collaborative client-designer relationship is at the core of SYD, developing each project into a distinguished one-of-a-kind residential experience. With an extensive knowledge of architecture, furniture and fine finishes, Young ensures every detail is appointed to achieve a balance between furnishings and architecture. SYD manages and facilitates all elements of the design process from conception to installation; integrating form and function with financial and construction expectations.
A Chicago native, Young received his degree in architecture from Miami University in Oxford, Ohio. After working and apprenticing for the highly-acclaimed designer Doug Nickless, Young joined the prestigious firm, Kaufman Segal Design. He has been published in Modern Luxury Interiors Chicago and has managed construction and furnishing projects in Chicago's Lincoln Park & Gold Coast neighborhoods. SYD welcomes all opportunities to add enduring workmanship, value, function, and style to your interiors.