Miami Beach Welcomes ICFF Miami
---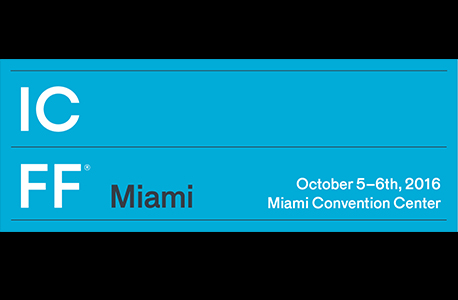 February 18, 2016
North America's largest and most prestigious design event for interiors, ICFF, will premiere ICFF Miami October 5 & 6, 2016, at the Miami Beach Convention Center. The Fair will present hundreds of leading brands addressing every facet of better interiors for residential, hospitality, commercial and high end retail. The event will feature lighting, furniture, seating, wall coverings, carpet and floorings, kitchen & bath, accessories, textiles and materials, shown by top names and emerging designers from around the globe. Registration opens June 28, 2016 at www.icffmiami.com.
Luxe Interiors + Design will join ICFF Miami with a major pavilion feature showcasing the finest luxury brands offering classic contemporary styling.
"The ICFF team has been working to bring the ICFF to Miami Beach for over two years," said Kevin O'Keefe, ICFF Event Director. "You can be very sure we will deliver a spectacular platform to our exhibitors and attendees in October – expect a landmark event in the design industry."
The event will be introduced to over 700,000 qualified architects, designers, developers, and retail showrooms who participate in ICFF, the Kitchen & Bath Industry Show (KBIS), GlobalShop, and the Hospitality Design Expo, as well as those who receive design:retail, Contract, Kitchen & Bath Business, and Hospitality Design magazines.
Additionally, Luxe Interiors + Design will share the event with tens of thousands of key architects and interior designers, high-end retailers and their more than 400,000 affluent readers.
"Miami is one of the strongest marketplace for our Luxe Interiors + Design brand," said Janice Browne, SVP, Group Publisher, of Luxe Media Group. "It is a hotbed of luxury development and a preferred investment destination for high wealth individuals from all over the globe."
The Miami market is a leading global center of luxury, ranking with New York as the only North American cities that make the top ten list of the Wealth Report, issued annually by London-based real estate consultancy, Knight Frank.
ICFF Miami exhibitors can expect to meet the architects, designers and developers that drive regional luxury development as well as high end retail showrooms, and a fine complement of design and retail influencers from the Caribbean, Mexico, Central and South America.