National Tile Contractors Association Announces 2015 Award Winners
---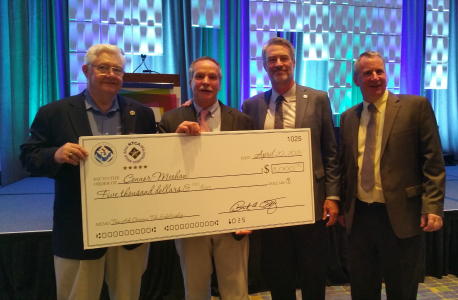 May 16, 2016
The National Tile Contractors Association (NTCA) recognized industry leaders at its Fourth Annual Awards Ceremony during Coverings 2016 in Chicago.
NTCA's Five Star Prize awards were presented for both Commercial and Residential Tile Installations. The Five Star winners received $2,500 each in prize money, sponsored by Daltile Corporation. More than 20 submissions were received and judged on scope (size of project), complexity (challenges), technical soundness (resolution of challenges) and design and presentation (overall appearance, layout and artistic value). 
The Grazzini Brothers & Company of Egan, Minnesota received the Five-Star Grand Prize for Commercial Tile Installation. The firm's installation of more than 24,000 sq. ft. of exterior natural stone wall tile and interior porcelain floor and wall tile at the Scientific Crime Detection Laboratory in Anchorage, Alaska proved to be a challenging project due to lack of infrastructure, cold and unpredictable weather and lack of daylight in the winter months. 
Cox Tile or San Antonio, Texas was the recipient of the Five-Star Grand Prize for Residential Tile Installation. The firm's project "Brick and Stone Paradise," had a foundation of brick, natural stone and handmade artisan tiles throughout the home's interior and exterior.
This year, the NTCA's Special Recognition Awards were presented to two individuals for their dedication to Promoting the tile trade and membership: Rod Owen of CC Owen Tile in Jonesboro, Georgia and Bradford Denny of Nichols Tile & Terrazzo Co. in Joelton, Tennessee.
NTCA's 2015 Tile Person of the Year Award was presented to Steve Young of Steve Young & Associates, located in White Plains, Georgia. An active and supporting member of the NTCA since 1978, Young's most significant contribution to the Association was his work during the early development years of the traveling workshop program. Young is also one of only two of the original members serving on the highly respected NTCA Technical Committee, boasting a dedicated tenure of more than 30 years. 
"Steve has served his industry and the NTCA for his entire career," stated NTCA President, James Woelfel. "He is most definitely deserving of this recognition."
Tim Curran, co-president of the Curran Group, owners of Crossville Incorporated, received the prestigious Joe A. Tarver Lifetime Achievement Award, offered to a leader in the tile and stone industry who dedicates his/her career to advancing the trade.  Curran has supported a legacy of leadership at Crossville, which was the first company to support the NTCA Five Star Contractor Program. 
NTCA also announced recipients of its first-ever NTCA Tom Ade Ceramic Tile Scholarship Award at Coverings 2016 in Chicago, Illinois. Named after Tom Ade, a former NTCA regional director and a previous recipient of NTCA's Ring Of Honor and Tile Person of the Year Awards, the scholarship was established by the NTCA to provide educational opportunities in college or trade for children or grandchildren of NTCA contractor members, and was presented to two students who were selected out of 16 nominees. Jan Hohn, NTCA state director from St. Paul, Minnesota, and last year's Tile Person of the Year recipient, presented the first award in the amount of $5,000 to Connor Meehan of Harwich, Massachusetts. Meehan is the son of Tom and Lane Meehan of Cape Cod Tileworks. Jim Olson, assistant executive director of the NTCA, presented the $2,500 scholarship award to Brianne Martinho, daughter of Robert and Melanie Martinho of NTCA Five Star Contractor Visalia Ceramic Tile in California.