NKBA Finds Kitchen & Bath Market is a $31-Billion Industry
---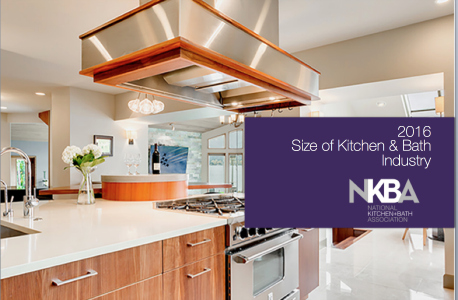 July 4, 2016
Remodeling of American kitchens and bathrooms represents a $31 billion annual industry, or 25 percent of the overall $121 billion U.S. remodeling market, according to new research from the National Kitchen & Bath Association (NKBA). The NKBA Size of the Industry Report finds that each year homeowners remodel upwards of 1.8 million kitchens and 2.5 million bathrooms, two of the most important rooms in a home. Further, annual new home construction adds roughly 1.2 million kitchens and 2.8 million bathrooms to the marketplace.
The report, the most comprehensive of its kind to be created in the last decade, was compiled in cooperation with The Farnsworth Group. Phase I of the study is available to NKBA members free of charge and to nonmembers for $299 at nkba.org/research. Phase II of the research is currently underway and is expected to be available in the fall.
Other findings include:
Rates of new home construction and renovation are anticipated to grow between five and seven percent annually through 2019.
Residential construction and remodeling continue to outpace the commercial sector, as well as the residential repair market. Overall, commercial construction continues to dwarf its residential counterpart.
Year-over-year growth in the multifamily housing construction market is expected to be surpassed by single-family construction in 2017 and continue through 2019.
"One of our most exciting new initiatives is commissioning research to ensure our members stay ahead of the important trends and changes in the market," said NKBA CEO Bill Darcy. "We recently hired our first consulting economist, Manuel Gutierrez, who is helping to spearhead our research efforts. The State of the Industry Report and other forthcoming studies help our members understand what is happening today, and what we can expect in the near future."