NKBA Recognizes Excellence in Education and Names 2014 Top College
---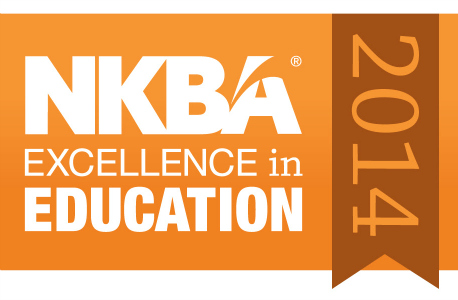 November 13, 2015
For the eighth consecutive year, the National Kitchen & Bath Association (NKBA) recognized NKBA accredited programs with the 2014 Excellence in Education Award. The College and Student Engagement department announced these prestigious accomplishments during the Fall Webinar for Educators.
Each program considered for the award submitted two student bath design projects, which were scored using the NKBA Planning Guidelines and NKBA Graphic and Presentation Standards. All of the nine selected schools met the NKBA's challenging goal of earning an average combined score of 90 or above on its two student designs. Each program receives an Excellence in Education certificate to display in their department showcase as well as use of the NKBA 2014 Excellence in Education logo. The logos for consecutive winning years are used on websites and marketing materials so the schools can proudly display their history of excellence. 
As the program with the highest combined average score of 98.13, Mt. San Antonio College was named NKBA College of the Year for 2014. The school will receive an engraved crystal trophy and a Certificate of Achievement for NKBA College of the Year – 2014 to display prominently in its department showcase.  
The nine winning schools and their kitchen and bath design NKBA Program Coordinators are:
Alexandria Technical & Community College, Alexandria, MN – Betty Ravnik, CMKBD
Arapahoe Community College, Littleton, CO – Dawn Viola, CKE, CBE
Dakota County Technical College, Rosemount, MN – Anne Farniok, CID, LEED AP
Harper College, Palatine, IL – Jacque Mott
Johnson County Community College, Overland Park, KS – Bobanne Kalkofen, ASID
Mt. San Antonio College, Walnut, CA – Elisabeth Eatman
San Diego Mesa College, San Diego, CA – Holly Hodnick
Seminole State College of Florida, Heathrow, FL – Dr. Jeannette Steeves
Sullivan College of Technology and Design, Louisville, KY – Wayne Whitson, KYCID