Premier Custom Cabinetry Celebrates 25th Anniversary
---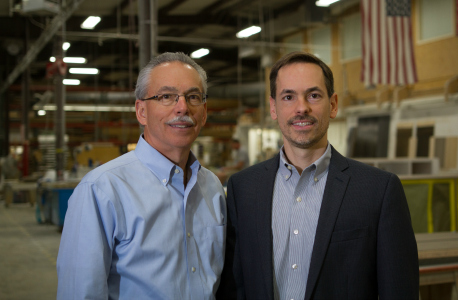 May 5, 2016
In July, Premier Custom Built Cabinetry will begin a yearlong celebration in recognition of the company's 25th anniversary. 
"This year brings us to a milestone of 25 years of service," said company president Sheldon Horst. "We're so excited and happy to be continuing on the journey that was begun by my father and company founder, Marlin Horst." 
Marlin started the company with a vision, a small group of experienced craftsman and the belief that the company's success depended upon values of excellence, teamwork and giving back to the community. During the next 25 years, Premier created an identity within the market of high-end, luxury residential cabinetry and millwork.  
"As our company transitions into the next phase of leadership, we are committed to the original passion of crafting fine cabinetry, collaborating with our design partners, investing in our employees and giving back to our community and the world," said Marlin. In an effort to support continued growth and meet the demands of the luxury market, Premier expanded its manufacturing capability over the course of 2015.  
"With a new building, the addition of skilled labor and increased production capacity, we're poised and excited to begin the next 25 years of custom cabinet manufacturing," said Sheldon.  "With Marlin's continued support, we are looking forward to carrying on his legacy."