ROHL Designer Open Call Contest Now Accepting Entries
---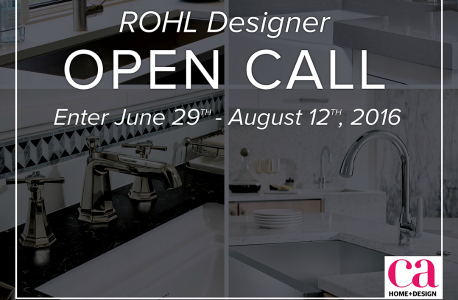 July 6, 2016
ROHL is hosting its first-ever Designer Open Call contest. Developed in collaboration with California Home + Design magazine, the contest recognizes the exceptional designers and the innovative kitchen and bath designs they create featuring ROHL products. Entry is free and open to designers and kitchen and bath projects from across the United States. All projects must be completed between June 29, 2014 and August 12, 2016, to be eligible for entry. Four winning designs will be selected, two for kitchen and two for bath.
"I'm always fascinated to see how designers use our products to create spaces that are beautiful and functional and also innovative and unexpected," said Lou Rohl, CEO and managing partner, ROHL. "With the Designer Open Call, it's an opportunity for us to recognize the designers behind this creativity and their design excellence in the kitchen and bath industry."
Entrants are required to include contact information and a brief description about each project including their selection and integration of ROHL products, as well as the following:
* Project must be completed within the last 24 months
* Kitchen Projects must include a ROHL faucet and ROHL sink
* Bath Projects must include a minimum of three ROHL products (faucet, sink, showerhead, tub filler, toilet, accessory, etc.)
* 5-10 high-res images of project
The entry deadline is 5 p.m. PST, August 12, 2016.
Entries will be evaluated by a panel of judges including editors of California Home + Design and representatives from ROHL. Designs will be critiqued on the innovative design and integration of ROHL products. Two winners, one kitchen and one bath, will be selected by the jury. A people's choice winner will also be awarded for each category. Online voting will be held on www.californiahomedesign.com beginning August 29, 2016. Winners will be notified in September and have their designs featured in the winter issue of California Home + Design, as well as on the ROHL website and social media platforms. All entries must be emailed to ROHLDesignerOpenCall@CHDMedia.com by August 12, 2016. You can visit California Home + Design for complete details on the competition, rules and entry information.